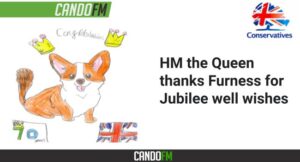 Her Majesty the Queen has written to Furness' local MP, Simon Fell, to thank residents for the well wishes which were sent to Buckingham Palace in celebration of Her Majesty's accession to the throne.
In the lead up to the Platinum Jubilee, Mr Fell ran an open competition for residents to design a card of well wishes for the MP to send to the Monarch on behalf of the residents of Barrow and Furness.
After receiving hundreds of entries, the MP chose a colourful design with the centre piece being the pet which is synonymous with Her Majesty – the Corgi dog. The card was designed by Orla of St Columba's school.
In the response to Mr Fell from the Palace, signed by the Head of the Private Office, Her Majesty sent "her best wishes to all (Furness residents) for a most enjoyable Platinum Jubilee year."
Commenting upon receipt of the letter, Simon said:
"This is just fantastic, and a very pleasant and unexpected surprise.
"I wanted to share the response from the Palace with everyone, as the card was sent on behalf of all Barrow and Furness residents.
"My thanks again go to Orla for a fantastic card design, and to Her Majesty in this, her Platinum year."