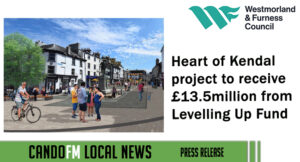 Transformational projects to improve Kendal town centre have been given a £13.5million cash boost.
The Heart of Kendal project, which includes town centre regeneration schemes and improvements to connectivity along the River Kent, has been provisionally awarded up to £13,476,700 through the third round of the government's Levelling Up Fund.
This will build on existing investment already going into the town through the Stramongate Public Realm Improvement Scheme, the Kendal Flood Risk Management Scheme and improvements to walking and cycling routes along the River Corridor.
Councillor Jonathan Brook, Leader of Westmorland and Furness Council, said: "We are delighted that our Heart of Kendal submission has been accepted and will be supported through round three of the government's Levelling Up Fund.
"A great deal of work has been put into the bid by Kendal Town Team partners. It is tremendously exciting to have that work pay off. We will now work to turn these ambitions for Kendal into a reality.
"These projects will make a real difference to the people of Kendal and all who come to the town. They will embrace the unique setting of our town, and use our built heritage and culture to enhance the town centre, to make it more attractive and accessible for living, working, culture and leisure."
Cllr Brook added: "This Levelling Up funding in itself will allow us to do great things for Kendal but it also builds on and strengthens existing projects already under way, such as the Kendal Local Cycling and Walking Infrastructure Plan (LCWIP), the recently-completed Gooseholme Bridge replacement, the Environment Agency-led Kendal Flood Risk Management Scheme, which includes opportunities to improve the riverside corridor for the benefit of pedestrians and cyclists, and projects funded through the government's UK Shared Prosperity Fund, including public realm improvements scheme on Stramongate."
The Heart of Kendal Projects are:
Kendal's Town Centre Regeneration
Repurposing the Westmorland Shopping Centre to provide new education accommodation, creating a third campus for Kendal College.
Regeneration and reimagining Kendal's historic Market Hall.
Renewal of Market Place and Kent Street to enhance public realm in the heart of the town.
Kendal's Riverside Corridor
Transforming the riverside path between Lowther Street and Abbot Hall into an active travel route connecting the River Kent to the town centre.
Kendal Town Team – a partnership between Westmorland and Furness Council, Kendal Futures and Kendal Town Council – worked together to submit a bid for round two in the summer of 2022, which was unsuccessful.
Government has now informed the council that for round three it has drawn on the impressive pool of round 2 bids which they were not able to fund but were assessed as high-quality and ready-to-deliver. As some time has passed since the initial project proposals were developed, the council will now engage on a process with government and key stakeholders to review and refine the scope of works to ensure they remain impactful and deliverable.
Click here to read more on the Department for Levelling Up, Housing and Communities website: https://www.gov.uk/guidance/levelling-up-fund-round-3-explanatory-and-methodology-note-on-the-decision-making-process