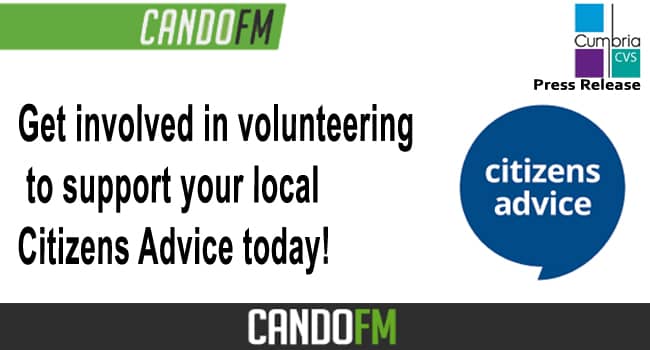 Appeal for new Volunteer Advisers and Trustees to support Citizens Advice across Cumbria. Social Media Volunteers are also being recruited.
A Citizens Advice Virtual Volunteer Recruitment Session, hosted by Cumbria CVS will bring together Citizens Advice from across Cumbria to promote their current volunteering opportunities, training opportunities and volunteer recruitment process to potential volunteers.
Anyone interested in making a difference through volunteering to help their community through Citizens Advice are encouraged to register to volunteer.
Cumbria CVS is appealing for new volunteers to become volunteers to support Citizens Advice either in South Lakes, Barrow, Carlisle and Eden, Allerdale and Copeland, etc.
A Citizens Advice Virtual Volunteer Recruitment Session on Wednesday 20 October 2021 from 12noon-1pm will be hosted online via zoom by Cumbria CVS for anyone interested in finding out more about becoming a volunteer with Citizens Advice in Cumbria. This lunch-time Volunteer Recruitment Event will give people in Cumbria a fantastic opportunity to meet their local Citizens Advice and find out more about their current volunteering opportunities, when and where they need volunteers, the types of skills and qualities they are looking for from volunteers, induction, training and support and the Volunteer Recruitment Process.
Citizens Advice in Cumbria helps local people, through providing free, confidential, independent advice and support on matters including employment, debt, benefits, housing, energy and consumer affairs. Coronavirus has made life hard for so many people and there has been an increase in people needing advice and support. Locally, Citizens Advice rely on a team of committed volunteers to support the essential Citizens Advice work and therefore new volunteers are currently being recruited, in particular Volunteer Advisers and Volunteer Trustees.
Volunteer advisers support clients face to face, by email and on the phone to provide advice across a wide range of issues. However, some local Citizens Advice may not be offering a face to face service at present so advisers could be working remotely. Volunteer Advisers need to undertake a full training programme, have good IT skills and commit to one day a week of volunteering.
Trustees ensure the organisation satisfies its legal and contractual obligations and help shape its future direction and support business planning. This role involves being able to volunteer around 5-8 hours a month in order to help your local Citizens Advice make strategic decisions about their work for future planning and delivery. Some Citizens Advice are also recruiting Social Media volunteers.
Rachel Van Staden, Volunteer Recruitment and Training Officer for South Lakes Citizens Advice says:
"All our local Citizens Advice services in Cumbria deliver essential advice to our local communities but we need more volunteers. We need a range of volunteers with different skills and backgrounds to be either Advisers, Trustees or to help with Social Media. Citizens Advice need volunteers to have the ability to communicate well, work effectively as a team member but also independently and be able to exercise sound judgement.  A full induction will be provided to all volunteers and new trustees."
Christine McKinlay, Chief Officer for Barrow Citizens Advice says,  "Volunteering brings so many benefits to those individuals we support by providing free essential advice on a range of issues. Volunteering whether as an Adviser, Trustee or helping with social media is a great opportunity for volunteers to gain experience, meet new people, access training opportunities, learn something new or share qualities and skills to our local Citizens Advice, people and communities."
Judith Smale, Volunteering Manager at Cumbria CVS, says: "I would like to encourage anyone that has some spare time and would like to volunteer with Citizens Advice to attend the Virtual Volunteer Recruitment Session to find out more about becoming a volunteer. We would like to attract adult volunteers of all ages and backgrounds, who want to make a positive difference to their community.
To book a place and for joining details please contact Cumbria CVS via email at: info@cumbriacvs.org.uk or telephone Cumbria CVS on 01768 800350.
If you are unable to attend the event but wish to volunteer directly with Citizens Advice please visit:
https://www.citizensadvice.org.uk/about-us/support-us/volunteering/
Get involved in volunteering to support your local Citizens Advice today!