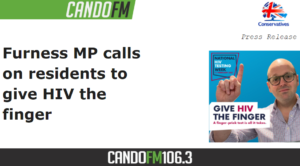 FURNESS MP CALLS ON RESIDENTS TO GIVE HIV THE FINGER
To mark National HIV Testing Week (1-7 February 2021), Simon Fell MP is calling on local residents to test for HIV and know the facts about the virus.
In England around 6,000 people living with HIV do not know their status, with stigma often one of the biggest barriers to getting tested.
In a bid to tackle HIV stigma and show how quick and easy it is to do an HIV test, Mr Fell completed a Simplitude By Me HIV self-test from charity Terrence Higgins Trust which gives a result in less than 15 minutes.
There's now lots of ways to test for HIV. However, the safest option for everyone right now is to test at home. With more people at home due to the COVID-19 lockdown, now is a great time to test and find out your status.