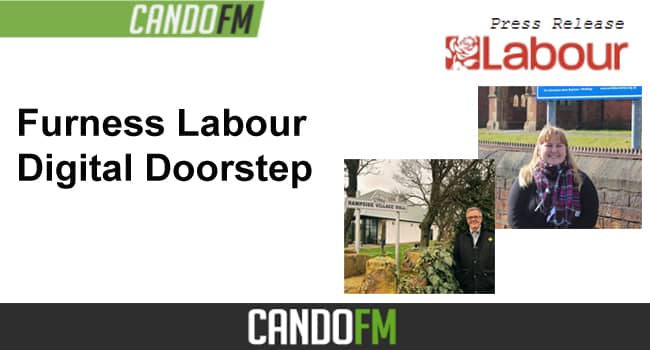 Barrow and Furness Constituency Labour Party's digital doorstep campaign in Hindpool and Roosecote is going from strength to strength with data showing widespread contact with residents, and increased resident feedback on important issues, across a range online platforms.
A spokesperson for the local Labour party said, "Digital tools are more sophisticated than they used to be but face to face conversations on the doorstep are still considered an effective way to reach people.
Feedback from residents and our members has clearly stated that they do not want unannounced door knocking during this campaign due to the current Covid19 restrictions. We have to respect this so have come up with alternative ways to continue door knocking so that people feel safe and can still engage with us.
This includes digital door knocking and announced face to face doorstep visits."
Paul Griffiths, Roosecote candidate said, "Resident feedback has meant that we have had to think creatively and adapt to get our message out, and use new techniques to listen to what people have to say. We want people to feel safe but we still want them to have a voice. I am more than happy to undertake safe doorstep visits or phone calls that are agreed in advance as long as the resident's needs, and what makes them feel comfortable, is considered as a priority."
Jo Tyson, Hindpool candidate said, "We need to be sensitive to what our community wants in terms of door knocking. It's all well and good going ahead if the rules say we can but that doesn't take into account how people feel about it after a year of lock downs and restrictions when someone turns up unannounced on their doorstep. This needs to be managed carefully and safely and it is important to me to reach residents in a way that works for them."
Hindpool or Roosecote residents who would like a face to face announced and socially distant door step visit from their Labour Party candidate, or a phone call, can call 01229 820025 or email barrowbranch@gmail.com leaving their name and contact details and someone will get back to them.
Contact details will not be stored or used for any other purposes.