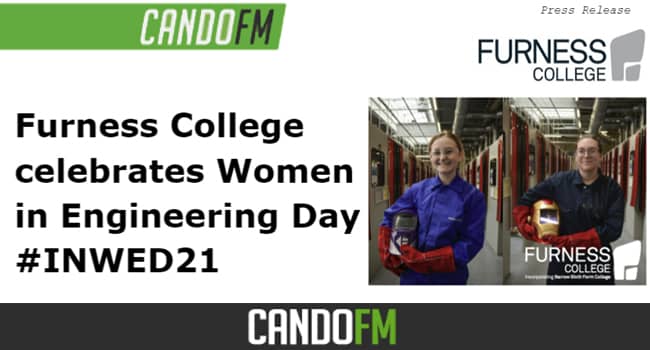 Furness College is celebrating engineering heroes and hoping to inspire female engineers of the future as part of International Women in Engineering Day 2021 tomorrow. (Wednesday 23rd June)
The college is showcasing the role of some of its ambitious students and staff who are making valuable contributions to the engineering field as part of the worldwide #INWED21 social media campaign.
It will feature student Tyeisha Stamp, who studies a Level 2 Diploma in Fabrication and Welding at Furness College's Channelside campus, and who aims for a career as an engineer in the Army.
"I want to make a positive outcome on the world and I want more women to believe that they are good enough and skilled enough to work alongside men in the engineering world, especially the practical side," she said.
"Studying at Furness College has helped me find new ways to learn and overcome tasks at hand. It creates a gateway to many new possibilities for the future and will set you up for amazing achievement in your life."
Another student, Ruby Shepherd, who studies Level 3 Fabrication and Welding, is also keen to make a name for herself in a career in engineering and features in the campaign.
"I came straight into an engineering course at Furness College from school as I want to follow in my dad's footsteps as an engineer," she said. "Studying has helped me get closer to my goal as I have learned a lot about the topics that are involved in my dream job in engineering."
Kate Colebourn, Director of Curriculum, 14-19 and Higher-Level Learning at Furness College, said she hopes to lead by example and encourage other women into careers in engineering.
"I was always inquisitive about how things worked and how things were put together, and I was also very good at maths which is a key part of engineering," she said.
"I am a chartered mechanical engineer by trade, and my most notable achievement has been gaining chartered status.
"Engineering has opened lots of doors for me and it can lead to a very varied career with lots of flexibility. I would say to anyone thinking of going into engineering to go for it."
Kate worked in the renewable energy sector in Scotland, worked for Caterpillar on engine test beds and had a role as an improvement engineer for James Cropper PLC before joining Furness College.
"I'm particularly pleased to hear about the rise of women in engineering in this area and I am proud to be a part of Furness College and the wide range of opportunities offered here in our world-class facilities."
To find out more about engineering at Furness College, go to: www.furness.ac.uk