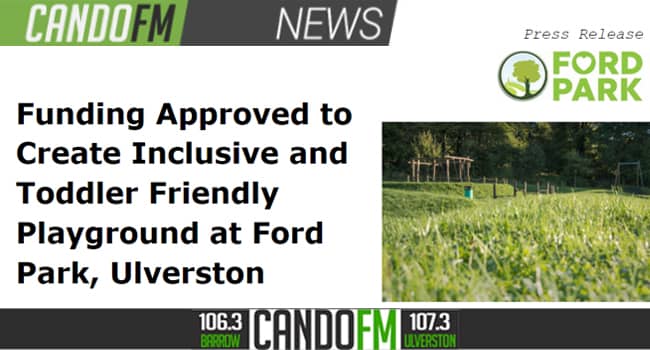 Children and families in Ulverston and surrounding areas are set to enjoy a new, inclusive and toddler friendly playground at Ford Park thanks to a £100,000 grant from FCC Communities Foundation and a generous contribution from Coordination Group Publication (CGP) Ltd.
For a long time, registered charity Ford Park Community Group has wanted to update and replace the playground at Ford Park with one that is truly inclusive and provides play opportunities for toddlers too. This has been echoed by comments and suggestions from many local families and school children.
The money will be used to buy play equipment to completely replace our existing playground.
Shirley-Anne Wilson, Chair of Trustees for Ford Park Community Group, believes the new playground will make a huge difference for local families and children and will be a great boost for the charity-run Ford Park.
She said: "We are all thrilled and delighted to have received this funding for our new inclusive playground. We have long desired to widen our facilities to be more inclusive for all and this gives us the opportunity to do this. Ford Park is a wonderful community asset to be enjoyed by all ages.
"It's fantastic that FCC Communities Foundation has awarded us this money. We are equally grateful for CGP Ltd for their generous contribution. We are really looking forward to this exciting development taking place."
FCC Communities Foundation Grant Manager, Sophie Cade, said: "We are delighted to be supporting the redevelopment of the play area in Ford Park, these much needed improvements should make a huge difference to the many families visiting the park."
FCC Communities Foundation is a not-for-profit business that awards grants for community projects through the Landfill Communities Fund.
Ford Park is a charity owned and managed Park at the heart of Ulverston.