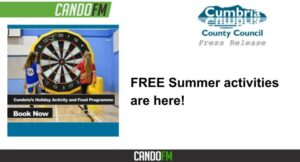 The summer holidays are well underway and children and young people across the county have been taking part in a range of exciting activities as part of Cumbria's Holiday Activity and Food Programme.
From Firefighter experiences to djing; from canoeing to crafts; from multi-sports to meeting animals, a huge range of activities are underway to suit all interests and ages.
With just over four weeks left of the summer holidays, places have been filling fast. However, places are still available and Cumbrian families are being reminded – it's not too late to book and join in the fun!
Families are encouraged to visit www.cumbria.gov.uk/holidaysto check availability and book activities.
Families can also choose from the huge variety on offer by downloading one of our leaflets- detailing the different activities on offer from the various districts. A leaflet detailing Special Needs provision has also been produced:
Activities are funded by the Government's Holiday Activity and Food Programme; all the activities are FREE for families whose children receive benefits-related free school meals. Activities are also FREE for children assessed as being in need or vulnerable, children with a Special Educational Need or Disability (SEND), looked-after children (Children in public care, who are placed with foster carers, in residential homes or with parents or other relatives), children with an Education Health and Care plan (EHC) and refugee children. For full details on eligibility please email HAF@cumbria.gov.uk
Councillor Deborah Earl, Cabinet Member for Communities and Public Health, said:
"It is fantastic to see our county's children and young people enjoying themselves and having so much fun in such a diverse range of activities across the county.
"We have four more weeks of amazing activities to choose from and it's not too late to book. But be quick to avoid disappointment!
Families can also sign up to Cumbria's Holiday Activity and Food Programme mailing list to get the latest updates for the summer programme and beyond.