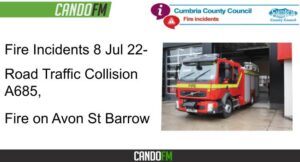 Road Traffic Collision (South Lakeland)
08-07-2022 01:00 AM BST
At 23:11 hours on the 8th July 2022, two fire engines from Kendal attended a road traffic collision on the A685. Grayrigg in Kendal. Whilst in attendance crews made the scene safe and assisted with two casualties. Crews were in attendance for approximately fifty minutes.
08-07-2022 01:00 AM BST
At 13:43 hours on 8th July 2022 two fire engines from Barrow-in-Furness fire station were called to reports of a fire on Avon street, Walney, Barrow-in-Furness. On arrival fire crews discovered a fire involving a large quantity of refuse, foliage and gardeners waste with two propane cylinders also affected by fire. Crews used one main jet and one thermal imaging camera to extinguish the fire and cool the cylinders. Fire crews were in attendance for approximately two hours and twenty five minutes.