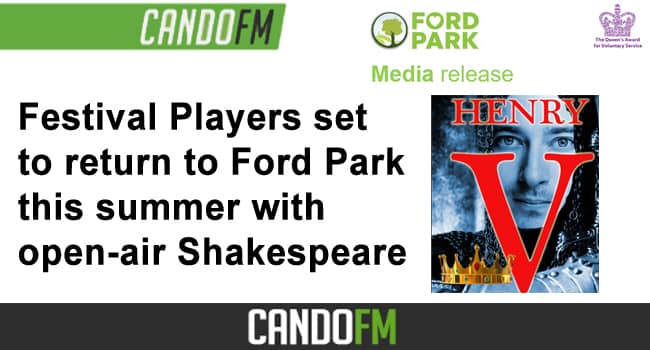 Picnic blankets at the ready as the Festival Players visit Ford Park this July with their touring production of Henry V.
The acclaimed theatre company, who have delighted audiences at the Ulverston park in the past, return on Friday 23 July with Shakespeare's most popular history play.
After a rebellious and spirited youth, carousing in the taverns of London, Prince Hal takes in the responsibility of Kingship and leads his troops, of low and high station, across the Channel to do battle with the French at Agincourt. Follow the charismatic King Henry the Fifth in this stirring tale of leadership, bravery, humour and love, providing two hours of wonderful entertainment for a summer's evening.
The performance starts at 7.30pm, with the park open for picnics beforehand, and visitors are asked to bring their own seating, rugs or blankets. As always, all events at Ford Park are risk assessed and due to the current public health emergency, groups will be socially distanced and there will be hand sanitiser for use on site.
Unfortunately, this year refreshments will not be available to purchase, so visitors are encouraged to bring their own.
Tickets are now on sale online – visit www.ford-park.org.uk
Tickets are £17 for adults, £15.50 concessions, £8 children/students and £44 for a family ticket (2 adults/2 children) 10% discount for parties of 10 or more in one order. Please note tickets are non-refundable.