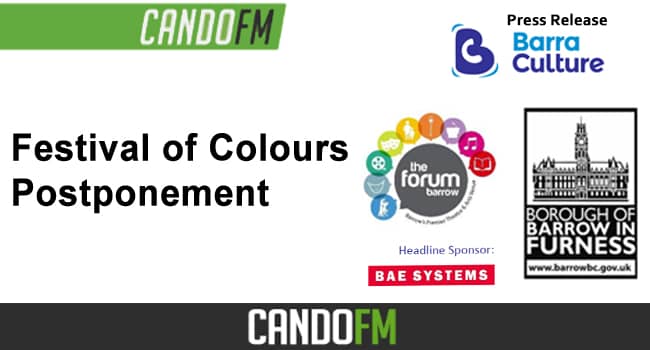 It is with deep regret that the Festival of Colours, a vibrant and multicultural celebration of South-Asian inspired dance, street food, workshops and music scheduled to take place on Saturday 26 June in Barrow, has been postponed.
Barra Culture, the Forum and Barrow Borough Council are incredibly disappointed to have to reschedule, but are happy to be making plans to relaunch the Festival later in the summer, coming back even bigger and even more colourful!
Councillor Shaun Blezard, Barrow Borough Council's lead member for Arts, Culture and Leisure, said: "I know many people will have been looking forward to the Holi Festival planned for next weekend and that its postponement will be disappointing. However, we need to make sure we do everything to keep people safe. Therefore, in light of the increasing number of cases in the region, we feel moving it to a date later this summer is the right thing to do. We hope this means people can enjoy the festival to the full as they celebrate and enjoy everything the special cultural event has to offer."
The planning and preparation for the Festival of Colours events was always planned in complete accordance the Government guidelines and the third stage of the roadmap which was due to end on 21 June. Last week's government announcement, extending the current restrictions to 19 July does allow events of this nature to go ahead. However, taking into account additional advice and guidance from central and local authorities regarding public health, and wanting to take additional, extra precautions for the safety of all in Barrow, and visiting performers, we have had to take the very difficult decision to postpone.
"We're obviously gutted to be postponing, but now that we've got all the planning under our belt, we're excited that our hard work will be put to good use when we can finally hold the festival later in the summer. All of our delivery partners have been completely understanding of the desire for extra caution, and are looking forward to making the event spectacular later in the Summer." Daniel Tyler-McTighe, Director, Barra Culture
The event producers are hugely thankful and grateful to all our supporters, partners and friends, and look forward to joining together very soon for the rescheduled event, in compliance with government guidelines.