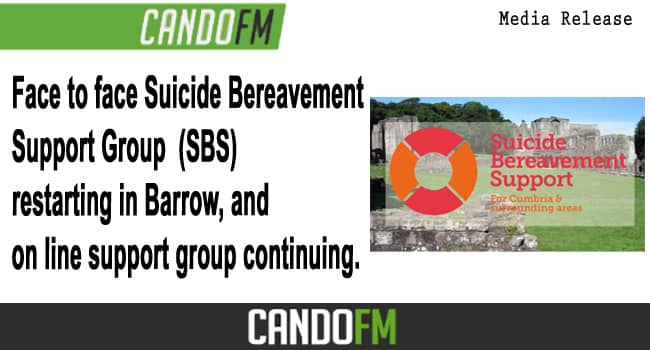 Each life lost to suicide is a tragedy, leaving behind family and friends to live with grief. In the Furness area, those who have lost a loved one to suicide can now access local support from local charity Suicide Bereavement Support (SBS), with face to face meetings relaunching on September 14 after a long break due to the COVID-19 crisis. The meeting will take place in Hawcoat, ( near FGH), monthly. However we are aware travelling to meetings is very much an issue, as can be arranging child care for parents, so the online meetings are also continuing, fortnightly.
Furness  SBS facilitators Emily and Kitty are themselves survivors of bereavement by suicide. Barrow-based Emily, who lost her partner of 25 years in 2008, said "getting support from SBS was a vital step for me in accepting the 'new normal' and finding some kind of peace with myself after my partner's death, but travelling to the nearest support group in Keswick was a burden on my time when I had a lot on my plate. That's why we are now launching this local group."
The meetings, held on the second Tuesday of the month, are a safe space to talk and share experiences, discuss practical issues such as the coroner's court process and offer comfort. You can say as much or as little as you want, and come back every month or not at all. For those that would like to join but can't make in-person meetings, SBS also organises an online support group, which became the norm during lockdown. The Furness group hosts social events and other one-off activities for members and their families. SBS also host a closed, confidential Facebook group which is a platform for members to support each other, and if you don't feel comfortable talking in a group situation, then the facilitators will arrange a one-on-one phone or in person meeting to provide resources and talk your situation through. There are also books available to loan and resources available via its website.
Ulverston-based facilitator Kitty, who joined SBS last year, has used SBS resources online and in person, adding that "just knowing that others are out there who have gone through the same thing has helped me so much. Whether that's online, through a chat on the Facebook group or at the meetings, it feels good to help others and support ourselves."
If you've lost someone to suicide, no matter whether it was recently or many years ago, or for all other enquiries get in touch with facilitator Emily on 07831394653 and leave a message or email emilysbsbarrow@gmail.com. Meetings will be held from 7.30-9pm. Those  suicide bereaved, whether now or 30 years ago, are welcome.  We are also  happy to give talks locally, to explain the groups work.