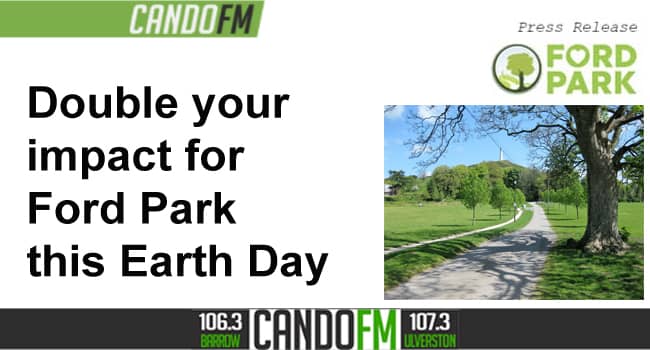 Generous supporters of Ford Park can help give the park a real boost this week – as it enters a national fundraising challenge in which all donations will be doubled.
The charity-run green space, at the heart of Ulverston, has been selected to take part in The Green Match Fund – a match funding campaign for charities, which are working on environmental issues as part of their core mission.
Ford Park Community Group hopes to raise £2,500, to be matched by the funding champion, to help boost wildlife habitats with increased wildflower planting and also to create native tree interpretation for the park's arboretum.
Jill Salmon, Ford Park's Chief Executive, said: "We are really excited about this campaign as we would like to use the funds to help create a community knowledgeable and excited about our native tree species, wildflowers and insects.
"We planted a native tree arboterum here at the park in 2019 and now we want to learn more about these trees – what they look like, how they help and also some of the really interesting history, cultural traditions and myths that surround them. To do this, we would like to create information and interpretation about the trees for everyone to enjoy.
"We also plan to increase planting of native wildflower species at the park, helping provide lots of things that insects need – not forgetting a burst of colour and natural beauty. We will create more information about our native wildflowers and why they are important, with the aim schools and youth groups can learn more our native species."
The fundraising campaign begins at 12noon on Thursday 22 April and runs until 12noon on Thursday 29 April. During this time, donations can be made via the Big Give website (https://donate.thebiggive.org.uk/) and will be doubled by the charity's Champion funds.
Jill added: "The Green Match Fund begins on Earth Day, an annual event celebrated around the world to show support for environmental protection, so what better time to make a donation to campaign.
"If you give between April 22-29, you will effectively double your donation. So, if 250 people gave £10 each to our campaign, we would reach £2,500 and gain an additional £2,500 in champion match funding – a huge boost!"
The Big Give brings charities, philanthropists and the public together to multiply their impact. The Big Give has raised over £156m for thousands of great causes through the power of match funding.