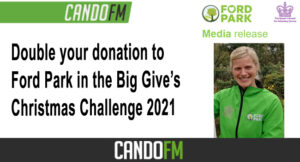 Ulverston's Ford Park is taking part in the Big Give's Christmas Challenge to raise over £2,000 in just one week!
Starting at midday tomorrow – Giving Tuesday (30 Nov) – the community group has 7 days to collect as many online donations as possible, raising money to help maintain and manage the community green space for everyone to enjoy and also support the park's Socially Inclusive Volunteering programme, which is vital to so many in the local area.
Catherine Elliott, Volunteer Team Leader at Ford Park, said:  "Here at Ford Park, we rely on our wonderful volunteers who give their time to help us maintain this fantastic green space at the heart of Ulverston – we simply could not do it without them.
"We are lucky to have a great volunteering team – made up of a range of people from all backgrounds, including adults with additional needs, vulnerable adults and the socially isolated – who carry out tasks in all weathers and who genuinely enjoy being here at the park.
"But there's more to our Socially Inclusive Volunteering Programme than caring for the park –  it really makes a difference to people's lives in our community.  Volunteering opportunities for adults with additional needs are very limited, so if you can, please help support our Volunteering Programme by donating to our Big Give Christmas Challenge."
Thanks to Ford Park's generous Big Give champions – The Reed Foundation –  every £1 donated will be matched, meaning one donation has twice the impact for the park, with the aim to raise over £4,000 including match funding.
To get involved and support the campaign, please visit https://donate.thebiggive.org.uk/campaign/a056900001wWOdMAAW and make a donation from 12pm (midday) on #GivingTuesday (30th November). The campaign will close at 12pm on Tuesday 7th December.