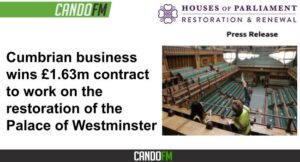 James Fisher Strainstall based in Barrow-in-Furness will be conducting baseline monitoring of the Palace of Westminster structure and to assess the impact of any seasonal, tidal, daily and background movement during reconstruction.
Other experts will also dig 23 boreholes, with some reaching up to 70 metres in depth, to assess ground conditions around the Palace of Westminster to inform decisions about essential restoration work to preserve the 150-year-old building.
The new monitoring and boreholes are just some of an extensive programme of building investigations commissioned today by the Houses of Parliament Restoration and Renewal Programme. Survey contracts worth over £4m in total were awarded to seven companies.
Archaeologists will be on-site for each of the 23 holes to record any finds of historical significance. Previous ground investigations in recent decades have uncovered a centuries-old sword and buried fragments of King Henry III's high table.
Elsewhere, 160 rooms across Parliament will be inspected by surveyors who will lift up floorboards, sensitively drill into walls and remove ceiling panels to look at a range of issues such as wall cavities, the material makeup of the building and the weight-bearing of historic flooring. Specialist teams will continue to inspect the hundreds of miles of interconnected power cables, gas, water and heating pipes as well as outdated water and sewerage systems.
Small to medium sized businesses are expected to benefit in particular from the latest contract awards, with five out of the seven contract winners being classed as SMEs. The various surveys are planned to begin from July 2022 and will continue over the next 12-18 months.
David Goldstone, CEO of the Houses of Parliament Restoration and Renewal Delivery Authority, said: 
"Our experts are carrying out the most detailed ever surveys of the Palace of Westminster, which will be critical to informing decisions about the essential restoration to preserve our historic Parliament buildings."
Jonathan Simpson Tarling, Managing Director of James Fisher Strainstall, said:
"JF Strainstall's teams across the UK are honoured to have been selected for this contract, a testament to our 25-year expertise in condition monitoring of heritage structures. With our proven track record working on iconic listed monuments including Clifton Suspension Bridge, Exeter Cathedral and the Forth Bridge, we look forward to getting started in this new collaboration and applying Better Information Modelling at the site of a key piece of British history."
The Restoration and Renewal Programme is carrying out tens of thousands of hours of complex building surveys and investigations needed to inform future decisions on the essential restoration work.
Since January, restoration and renewal programme teams have examined 2,089 spaces across the Palace of Westminster.  Surveys conducted throughout the last Parliamentary recesses included a thermographic study of heat loss from the building, examination of room spaces, and studying conditions just under the surface of the ground to measure tree roots and other obstructions which could impair restoration works.
In March, the Commissions of both Houses of Parliament met to discuss the future of the Restoration and Renewal Programme, following concerns over the emerging costs and timescales of the existing approach, and programme governance. They made a united commitment to preserving the Palace, and agreed to seek independent advice and assurance on the new approach to the works, as well as on proposals to take forward the Commissions' decisions to replace the Sponsor Body. They also asked the Delivery Authority to place a high priority on continuing with the already planned programme of intrusive surveys, and other necessary work to inform future decisions, as swiftly as possible.
A revised mandate for the works and changes to the sponsorship function will be sought from the two Houses, which is currently planned to take place before the summer recess.
The first seven winning contractors include:
Supplier
Contract value
AECOM Ltd

Air Quality

£83,000
Concept Engineering Consultants Ltd

Ground Investigation

£937,000
Alan Conisbee & Associates

Building Intrusive Surveys

£268,000
Museum of London Archaeology

Archaeology

£184,000
DBR (London) Ltd

General Contractor

£903,000
Ductclean T/A DCUK FM

Asbestos Surveys

£233,000
Instrumentation & Monitoring

James Fisher Strainstall

£1.63m