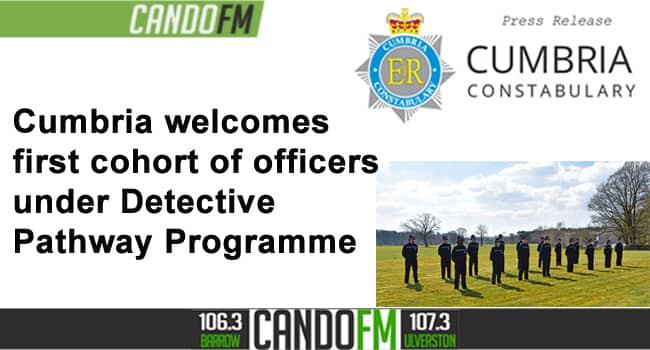 The county's first-ever cohort of officers who will become detectives upon completion of their training have begun their careers at Cumbria Constabulary.
The cohort of 16 officers started their training programme on 12 April and were sworn in at their attestation ceremony held on Friday (19 April).
The officers will undertake an intensive two-year training programme which will see them work towards a diploma in Professional Policing Practice whilst serving communities as operational police officers.
The second year of their training will see the officers attached to the Constabulary's Crime Command and complete a comprehensive detective training package.
Chief Superintendent Lisa Hogan, Head of People at Cumbria Constabulary, said:
"Traditionally, the conventional way to become a detective was to join the force as a police constable, but as crime changes, so does our recruitment process. The Detective Pathway Programme will see these officers undertake rigorous training to join our talented and professional team of detectives, carrying out crime investigations across the county. 
"Importantly, during their first year, the officers will combine studying with undertaking uniformed policing roles which will benefit our communities.
"The role of a detective constable deals with serious and complex crimes, including fraud, domestic abuse and county lines drug supply. The role is demanding, fast-paced and ultimately very rewarding. Once fully accredited, the officers will have opportunities to join our Crime and Safeguarding Teams or specialise in a number of areas including safeguarding, serious and organised crime and intelligence.
"I look forward to seeing the progress of our latest cohort of officers and their contributions to keeping people in Cumbria safe."
PC Rebecca Lynch who started the programme this week said "We have all really enjoyed our first week.
"It has been great getting to know everyone within the cohort and learning more about the constabulary.
"We are all proud to be part of the first cohort on the Detective Constable Degree Holder Entry Programme and are looking forward to getting stuck in to the rest of the course."
For more information on the role of a police officer, the entry routes available and how to apply, please visit the Constabulary's website.