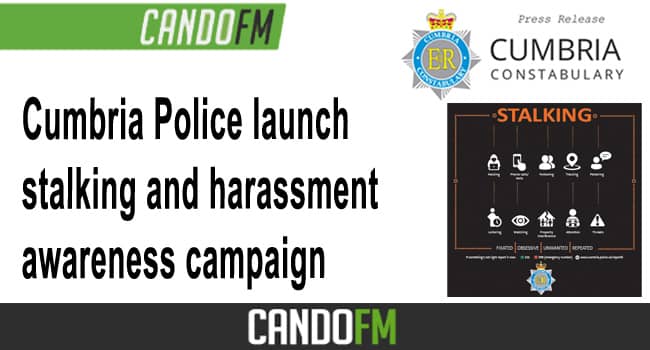 Today (2nd August), Cumbria Police have launched a Stalking and Harassment Awareness campaign, which will run until the end of August.
The campaign, which can be followed on constabulary's website and social media accounts, will raise awareness of what the crimes of stalking and harassment are, and the importance of early reporting will be highlighted.
The constabulary have created fictional diary accounts of stalking. These accounts are based on a combination of reports to police. They have been created to illustrate how, reporting all behaviour that causes concern, no matter how minor it may seem in isolation, can help evidence the scale of a person' s stalking behaviour.
The campaign will also provide the public with information on:
The Stalking Protection Bill
Clare's Law
The silent solution system
The Alice Ruggles Trust's Services
The Suzy Lamplugh Trust's services
Accessing Support services
A statement from Sue Hills and Clive Ruggles, Alice's parents, on behalf of the Alice Ruggles Trust.
"We are delighted to support this campaign. Stalking is still a poorly understood crime amongst professionals, the general public and stalking victims. It can present in many different forms, but any behaviour that is Fixated, Obsessive, Unwanted and Repetitive counts as stalking and is potentially very dangerous.
"It is essential that professionals involved with stalking cases understand both the distress caused and the very serious risks faced by victims. It should not be ignored or passed off as unimportant. It is also imperative that victims report stalking at an early stage so that interventions can be made to ensure their safety and to bring their perpetrators to justice."
Stalking and Harassment lead for Cumbria Police, Fae Dilks Said:
"We have launched this awareness campaign, to highlight this important area of crime and keep conversations going.
"People need to know what stalking or harassment are, so they can feel confident in reporting the crime to us.
"Becoming a victim of stalking can happen to anyone, at any time.
"We have created diaries by basing the narrative on a combining of reports of stalking. They take you through the journey of people who are experiencing stalking. There are also notes from the investigating officers.
"Keeping a diary often means that clear details are retained in date and sometimes time order, which can really help us build a picture of a person's stalking behaviour.
We will be posting the diaries on our social media channels with additional support information.
"Through these diaries the public will be able to see how, even the smallest of details, can help build up the full picture of a person's stalking behaviour.
"The nature of this type of crime is particularly distressing because the perpetrator is directly targeting a person.
"We take reports of stalking or harassment seriously. All reports are duly investigated with appropriate support and safeguarding considered.
"I would urge anyone who has concerns around stalking or harassment to report them to the police immediately."
Police and Crime Commissioner, Peter McCall said:
"I can only reiterate the good advice from the police,  and would add – please don't suffer in silence. Please have the confidence to come forward if you have any concerns at all, as the police will take all reports seriously."
Stalking behaviours include (but not exhaustive):
contacting/attempting to contact the victim;
publishing statements or material about the victim;
monitoring the victim (including online);
loitering in a public or private place;
interfering with property;
watching or spying.
Follow the campaign on social media by searching #ReportIt2021 on the Constabulary's social media accounts or visit the campaign page at www.cumbria.police.uk/All2021
To report a crime:
Visit www.cumbria.police.uk/Reportit for an online reporting form
To report a crime completely anonymously, contact independent charity, CrimeStoppers on 0800 555 111.