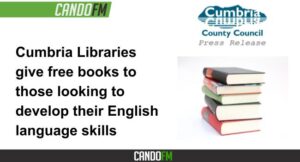 Cumbria County Council are giving away 500 free books in celebration of World Book Night, which takes place this Saturday (23 April).
Following their successful bid to World Book Night (WBN) organisers, Cumbria County Council's Libraries Service has received 500 free books to giveaway throughout the county over the coming weeks.
Adult Learning Teams will support the Libraries Service in offering the books to groups that use libraries to develop their literacy and English language skills; that includes English for Speakers of Other Languages (ESOL), family learning and those taking functional skills courses such as English, Maths and ICT.
The book on offer is a powerful and popular detective story; 'The Cutting Season'. Written by Carlisle born author M.W. Craven, it's been described as 'a brutal and thrilling page turner' by The Sun and 'one of the most engaging teams in crime fiction' by the Daily Mail.
WBN is the annual celebration of books and reading that takes place on 23 April each year. It brings people from all backgrounds together for one reason – to inspire others to read more.
This year WBN organisers have teamed up with the British Library to host an exciting evening celebrating reading. On Saturday popular presenter Bobby Seagull will be joined by Dr Alex George, Ayisha Malik, Dreda Say Mitchell and Lemn Sissay for a live discussion that will be livestreamed via The British Library's website for people to enjoy from home. For more information visit the WBN website at worldbooknight.org.
Cllr Deborah Earl, Cabinet Member for Public Health and Local Communities, said:
"Cumbria Libraries continue to inspire the people of our county to pick up a book and discover a love for reading, and this joint project between Cumbria Libraries and Adult Learning will be hugely beneficial to those looking to improve their reading skills.
"Reading is proven to have a positive impact on mental health and wellbeing for individuals. Improved literacy can also help to improve unemployment and the local economy, so projects such as this one can make a real difference to everyone in Cumbria."