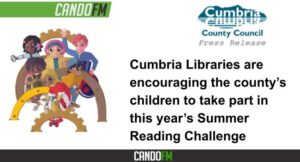 This year's challenge begins on 16 July and runs until mid-September. The challenge is simple; children aged between 4 – 12 read six books, or other literature of their choice, over the summer holidays and come back to the library to share what they've read.
Children can read fiction, fact books, poetry, joke books or picture books. Those that complete the challenge will be entered into a prize draw for the chance to win a Kindle e-reader and they'll also receive a fantastic certificate to display with pride.
Signing up to the Summer Reading Challenge is quick and easy. To sign up you need to be a library member. If you or your child is not yet a member you can join for free at www.cumbria.gov.uk/libraries and get instant access to the library service's online resources – including thousands of books, magazines and comics.
If you are already a library member simply download the application pack or pick up a copy from your local library. To request an application pack be posted to you use the Cumbria Libraries contact form.
Cumbria Libraries' Borrowbox service is a great way to get free access to Audiobooks and eBooks that can all be used to complete the Challenge.
Find out more by visiting Cumbria Libraries Summer Reading Challenge website.
The Summer Reading Challenge is an annual national event, presented by The Reading Agency and funded by Arts Council England. It encourages children to set themselves a reading challenge to help prevent the summer reading 'dip'. Cumbria Libraries will help support and motivate thousands of children to keep reading to build their skills and confidence. This year's theme is Gadgeteers 'discover the amazing science and innovation behind the world around us'. Children can access extra content online at the Reading Agency's Summer Reading Challenge website. The Cumberland Building Society has generously supported this year's challenge in Cumbria by donating the prizes of Kindle e-readers.
Cllr Deborah Earl, Cabinet Member for Public Health and Local Communities, said:
"Cumbria Libraries continue to spread the joy of reading to our younger generation and the Summer Reading Challenge is the perfect way to do so. Reading not only sparks the imagination of our little ones but it has many health benefits as it's been proven to reduce stress levels and those who read at an early age are more likely to do well in school.
"Don't forget the libraries' digital offer too, which provides access to thousands of eBooks and eAudiobooks for free to your smart device from the comfort of your home.
"The Summer Reading Challenge is a great activity to keep children reading during the school holidays, and the chance to win one of the fantastic prizes is a real bonus!"