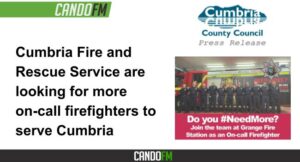 Cumbria Fire and Rescue Service (FRS) are encouraging people to step forward and explore the role of an on-call firefighter with them.
Working as an on-call firefighter means being involved in a range of activities in your local area, from responding to emergency calls, to providing prevention advice to communities to help keep them safe. In return, Cumbria FRS can offer flexible work to fit around study, work, and family commitments, first class training and development opportunities and a chance to make a difference in your local community.
These are paid, part-time, flexible roles suitable for everyone who lives or works near a fire station.
On-call firefighters commit to a certain number of hours each week when they are available to respond to emergency incidents. This means they can combine working for Cumbria Fire and Rescue Service with another career or their personal commitments.
Station Manager Liana Selecka-Jones, Cumbria FRS's Recruitment Lead said:
"Two thirds of Cumbria's fire stations are crewed by on-call firefighters, and we are thrilled to be launching our next on-call recruitment campaign throughout April and May. We welcome applicants form different walks of life, whatever your background and personal circumstances, if you are passionate about your local community and keeping the people of Cumbria safe, we encourage you to apply to become an on-call firefighter. It can be a start of a rewarding career, I started as an on-call firefighter 5 years ago and now I am a Station Manager".
Area Manager Andy Lee, Cumbria FRS's Head of People and Development said:
"Working in the fire service means you become part of a close-knit team, earn extra money, and receive full and ongoing training so you develop a broad range of transferable work and life skills. Being a firefighter is a fantastic job and our on-call crews play such a crucial role in protecting their communities within Cumbria.
"If you have a desire to serve your local community, enjoy learning new skills, enjoy working as part of a team and you are looking for a rewarding career, then we'd very much like to hear from you."
Cumbria Fire and Rescue Service are keen to ensure that their workforce reflects the local communities they work in and welcome enquiries from all, no previous experience is necessary, but applicants must:
Be aged over 18.
Have a strong desire to support the local community.
Be enthusiastic about working as part of a team.
Have a reasonable level of personal fitness.
Live or/and work near your local fire station.
To apply for a position as an on-call firefighter, visit Cumbria FRS's website: https://www.cumbria.gov.uk/oncallfirefighters
Upcoming open days and events:
Cumbria FRS are holding a range of events for interested candidates to come and find out more before they apply:
Egremont Fire Station Open Day
Date: Monday 25 April
Time: 15:00 – 20:00
Location: Egremont Fire Station, Chapel Street, Egremont, CA22 2DU
Contact: Carl Pearson, On-call Support Crew Manager – 07423 793603
MS Teams virtual sessions:
Come and speak to our recruitment team and on-call firefighters about the role, what it entails and how it all works.
To learn more, visit: