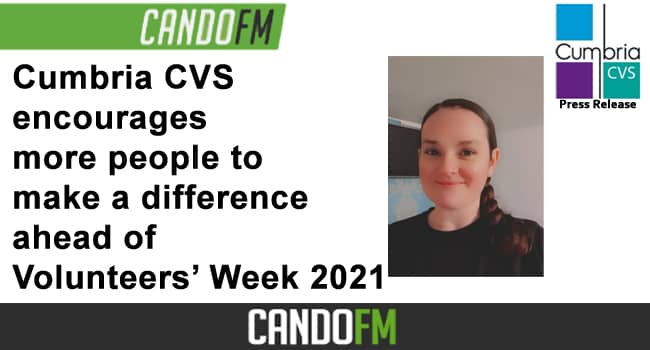 Cumbria CVS is celebrating Volunteers' Week with 15 virtual events to help people get involved
Maria, a Cumbria CVS Volunteer says volunteering has had a positive impact on her life and helping others is a great feeling
As restrictions ease and those who were furloughed return to work, more volunteers are needed to support charities and organisations across Cumbria
A Carlisle volunteer is urging others to do something positive with their spare time by helping make a difference to charities and voluntary organisations across Cumbria.
Maria, 36, of Carlisle, has volunteered with Cumbria CVS for the past nine months as a Digital Volunteer from home virtually, creating digital content which is shared through social media, email and websites.
She says: "Volunteering with Cumbria CVS has had such a positive impact on my life. It allows me to help organisations provide much-needed support. Doing something so fun and flexible that also has a positive impact on others is a great feeling."
With the easing of restrictions comes the need for more volunteers and ahead of Volunteers' Week 2021, Maria wants to encourage others to make a positive impact on their communities.
"I do a little bit of something I love and it makes such a huge difference to others," she continues. I work on my digital projects at home in my own time and I can do as much or as little as my circumstances allow.
"Whatever time and skills you have there is something you can do to make your local area a better place and you are left feeling like you have done something positive with your time. It has definitely been worth the two minutes it took me to email CVS to find out more about volunteering."
Between June 1 and 10, 2021, Cumbria CVS is celebrating Volunteers' Week with 15 Virtual Volunteer Information Sessions in partnership with a range of charities and organisations including, Family Action, Cumbria Law Centre, Barnardo's, Workington Play Goers-Workington Theatre, Cumbria Exchange, Cumbria County Council Voluntary Transport, Eden Carers, Annie Mawson Sunbeams Music Trust, Animal Rescue Cumbria, Sight Advice, SSAFA Armed Forces,   NSPCC, Hospice at Home, Living With and Beyond Cancer and North West Air Ambulance.
The sessions aim to promote volunteering opportunities and provide more information to anyone interested in making a difference.
Judith Smale, Volunteering Manager at CVS, says Volunteers' Week is a fantastic opportunity to recruit, recognise and reward volunteers. "Volunteers are so valuable to our local charities and organisations. The range of volunteering opportunities is amazing with everything from administration, supporting children, families, carers or the disabled to driving, gardening, animals, retail, fundraising, theatre, digital and IT support," she says.
"Throughout the pandemic, Cumbria has seen a fantastic community response in volunteer groups and individuals stepping forward to volunteer, especially with many people being furloughed. Now, some volunteers are returning to work after been furloughed, and with lockdown restrictions being lifted new volunteers are needed to help support local charities and organisations reopen and offer their amazing services to our communities, individuals and those most in need.
"Volunteering not only benefits communities, individuals, and the environment but is an extremely rewarding experience for those who offer to help. It's a way of learning new skills, helps boost confidence and, evidence suggests, it has a positive impact on health, counteracting the effects of stress and anxiety. It also helps to widen social networks and make volunteers feel part of a team and their community."
A grant from Cumberland Building Society Community Fund, which works collaboratively with the support of Cumbria Community Foundation to help local groups and organisations across our region make a positive difference, has helped make it possible to host these events.
For full details of all events see: www.cumbriacvs.org.uk/news/volunteersweek
Anyone interested in volunteering and who wish to attend the events can register via www.eventbrite.co.uk and search Cumbria CVS