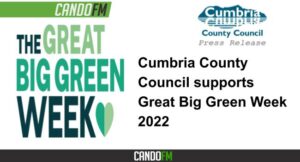 From 24 September to 2 October, Cumbria County Council along with many other organisations, communities and individuals across the country will come together for Great Big Green Week, a national climate action campaign.
The campaign, organised by The Climate Coalition, is an opportunity to celebrate what actions are being taken to tackle climate change and protect nature, explore what more we can do, and encourage others to get involved.
Climate change remains one of the greatest challenges to this generation and for many generations to come. With extreme weather events and rising global temperatures, it is more important than ever that we consider what changes we can all make to create a cleaner, greener, healthier world.
There is still time to get involved and we invite you to plan or attend an event or activity during the week of 24 September to 2 October to highlight your contribution towards tackling climate change. Events and activities are planned across Cumbria including repair cafes, bulb planting, reading groups, film screenings, litter picks and workshops.
Many of the local groups taking part are linked to the Cumbria Sustainability Network administered by CAfS and part of the Zero Carbon Cumbria Partnership (ZCCP). The ZCCP is a county-wide group of more than 80 organisations, co-chaired by Cumbria County Council and CAfS, aiming to achieve net zero carbon emissions in Cumbria by 2037.
Cllr Celia Tibble, Cumbria County Council's Cabinet Member for the Environment, said:
"I am delighted that the Council is supporting Great Big Green Week. Climate change is already a threat to Cumbria and is one of the greatest threats to humanity globally so this campaign is a great opportunity for us all to consider the effect our actions have on climate change and the part we can play in tackling it.
"There are lots of events and activities planned right across the county, so I'd urge everyone to get involved and encourage others to join you. Individually and collectively there's so much we can do to make a difference and reduce our impact on the planet."