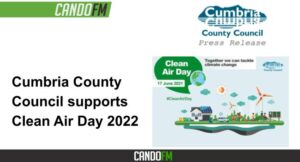 Cumbria County Council is supporting this year's Clean Air Day on Thursday 16 June. The annual campaign sees schools, hospitals, workplaces and communities across the UK run events and campaigns to inspire people to take simple steps to protect their and their families' health from air pollution.
Air pollution affects you from your first breath to your last and causes up to 36,000 deaths in the UK every year. Clean air is essential for our health, and the co-benefits of clean air measures are good for our wellbeing as well as the planet.
The good news is that our air pollution crisis is solvable and there are simple steps we can all take to improve the quality of the air we breathe and cut down on the pollution we emit.
We can all help by:
Changing the way we travel – incorporating more walking, cycling and public transport is a great way to reduce our impact on the environment, improve our health and fitness, all while saving some money.
Not idling our engines – idling is a significant contributor to local air pollution but switching off our engine when stationary, for example when waiting at traffic lights, can help.
Going electric. Consider joining a growing number of electric vehicle owners next time you need to change your car or van. A list of electric vehicle charging locations can be found at: www.cumbria.gov.uk/electricvehicles.
Avoiding unnecessary burning at home. If you rely on wood for your heating, use 'ready to burn' materials (e.g. dry/seasoned wood or approved manufactured solid fuels) and try to ensure that your appliance is eco-design accredited.
Check the labels on products. Take care when using cleaning products, aerosols, household sprays, paints and other consumer products. If you have to use these products indoors consider ways you could improve ventilation and try to use low emission products (sometimes labelled low VOC).
The Council has a number of initiatives designed to help reduce its carbon emissions as an organisation. These include charging infrastructure and a fleet of electric vehicles for staff to use to travel between sites, more flexible home-working for staff to reduce unnecessary journeys as well as a Cycle to Work scheme.
Cllr Celia Tibble, Cumbria County Council Cabinet Member for the Environment, said:
"I am delighted that the Council is again supporting Clean Air Day. It is a national day of action to raise awareness about the dangers of toxic air and how we can all contribute to reducing pollution.
"It's important for us all to know about the contributors and impacts of pollution, so I'd urge everyone to think about what they can do to help improve air quality and reduce the harm from pollution. We're lucky to live in one of the most beautiful parts of the country – let's keep it that way by working together to care for our environment."
For more information about practical steps you can take to reduce pollution and breathe cleaner air, visit the Clean Air Day website – 
www.actionforcleanair.org.uk
.