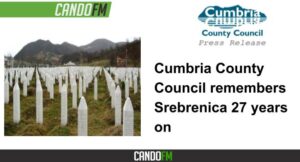 Cumbria County Council will be joining the nationwide initiative to commemorate the Srebrenica genocide of July 1995 – one of the most horrific events of the Bosnian War.
This year's Srebrenica Memorial Week will be taking place from 4 – 11 July where communities across the UK will commemorate the 27th anniversary of the genocide, where over 8,000 Bosnian Muslim people, mainly men and boys, were murdered simply because of their faith.
The theme for 2022 is "Combatting Denial: Confronting Hatred" which encourages people to recognise the important role that they can play in combating denial to help build safer, stronger and more cohesive communities for all.
Read the Council's statement of support on the cumbria.gov website.
Cllr Deborah Earl, Cabinet Member for Communities, said:
"It's very important that we learn from the past to create a better future. Srebrenica Memorial Week is a time for us all to remember the millions of people killed under regimes of hatred or who have suffered atrocities.
"It is also a time to recognise that there are still people today who are persecuted because of their sex, race, gender and religious beliefs.
"Cumbria has welcomed and provided a safe haven for those who suffered from the Holocaust and the Bosnian genocide. In times of trouble, the generous people of Cumbria open their doors and hearts to survivors."
Councillor Andy Connell, Chairman of Cumbria County Council, added:
"I fully support Srebrenica Memorial Week in raising awareness of the horrors of a relatively recent genocide. As individuals, communities and as a county, we must continually challenge hatred in all its forms: our actions can and do matter."