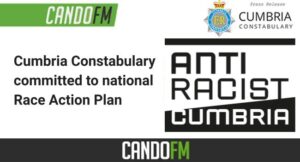 Cumbria Constabulary's Chief Constable, Michelle Skeer has today (24th May), announced the Force's commitment to the national Race Action Plan.
It is well documented and reported that, nationally, Black communities have less confidence in the police, with more work needed to improve the confidence and trust of black people in UK policing.
To address this, the national Race Action Plan, developed by the National Police Chiefs' Council and the College of Policing, has been launched across England and Wales.
The plan sets out challenging targets for forces to meet. Services, actions, policies and procedures will all be scrutinised, with the aim of all forces becoming anti-racist in all areas of policing, including tackling racial disparities proactively, not exacerbating racial disparities that may exist in society, and being continually aware, and acting upon issues of race and racism.
Chief Constable Michelle Skeer said:
"I fully support the national Race Action Plan and have personally signed my force up to it.
"It is a priority for me that Cumbria Constabulary is an inclusive organisation which is actively and consistently anti-racist. Everyone living in or visiting Cumbria, should feel confident that all representatives of the force will treat them with respect, free of bias, racism, or discrimination of any kind.
"This national plan says that discrimination and bias still exist in some behaviours, policies and procedures and there is some disproportionality, this is not saying policing or all its officers and staff are racist. It's acknowledged that most police officers and staff are not racist and that they don't tolerate racism or discrimination at all.  
"Working with Anti Racist Cumbria we know that racism can show up in ways we don't always recognise, we need to continue to develop our understanding of this to reach our aim of being actively anti-racist.
"Racism or discrimination of any kind is unacceptable and has no place in Cumbria in our communities or within Cumbria Police. This culture in force is important and I know my Officers and staff share these views and that we have robust procedures in place to tackle any bias, racism, discrimination, and disproportionality.
"This national plan will enhance and support the work we are already doing, including work already underway with Anti Racist Cumbria, reviewing our policies and procedures and how they are applied, and understanding black people's experiences to identify what actions we need to take to be confident that we are actively anti-racist and a force black people can trust.
"We have a number of existing projects being supported by members of our Black communities and Black colleagues.
"Our recent HMICFRS PEEL inspection highlighted the good work we are doing in areas of diversity and found that our working environment has an ethical and inclusive culture, this is thanks to the commitment our Officers and staff, and a good place to start.
"This work will ensure that within Cumbria Police, we treat everyone fairly and legitimately, that we are positively anti-racist and improve the trust in us by black people."
Cumbria Constabulary will publish the progress against this plan, along with other forces nationally.