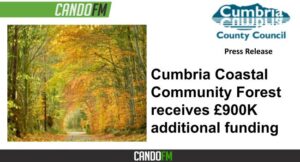 Cumbria Coastal Community Forest has been allocated almost £900,000 in extra funding by Defra to plant trees and create new woodlands under plans to increase access to nature for communities across England.
The community forest, which was given the green light in November 2021, is an ambitious and exciting initiative that will see thousands of trees planted along a 56-mile stretch of the western coast of Cumbria and help bring people closer to nature.
Across the country around 2,300 hectares of trees – equivalent to around 3,220 football pitches – will be planted as part of this year's total funding allocation from Defra's Nature for Climate Fund of £44.2 million.
This welcome additional funding will see more trees planted and woodlands established in Cumbria, giving local communities more opportunities to enjoy nature on their doorstep, providing greater opportunities for decarbonisation and creating more green jobs within the forestry and environmental sectors.
More than 500 trees, over half a hectare, have been planted so far across two school sites at St Benedict's School and Mayfield School in Whitehaven and this further investment will support work already underway by the Forest's project team to create new woodlands.
The development of the Cumbria Coastal Community Forest is being led by Cumbria County Council, The National Trust and Cumbria Woodlands, in close partnership with other local councils including Barrow Borough Council, Copeland Borough Council and Allerdale Borough Council. It is also being supported by a range of other organisations including Art Gene, The Nuclear Decommissioning Authority and Britain's Energy Coast.
Lord Zac Goldsmith, Forestry Minister, said:
"Our economies, livelihoods and well-being all rely on nature. As well as tackling the impacts of climate change and biodiversity loss, this significant funding will create diverse treescapes across the country and improve the health and wellbeing of local communities by giving them more opportunities to enjoy nature on their doorstep."
Councillor Celia Tibble, Cumbria County Council Cabinet Member for Environment, said:
"I am delighted that Cumbria's Coastal Community Forest has been allocated additional funding by Defra. Trees and woodlands are vital in our fight against climate change and this further investment will continue to support the work already underway. This ambitious development will not only benefit Cumbria environmentally and economically but provide far reaching physical and mental health benefits for our communities too, making Cumbria a more attractive place to live and work."