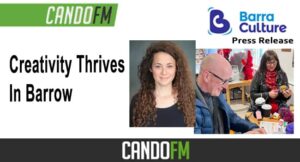 Skateboarding, graffiti art, outdoor singing and even a flock of pom pom sheep are among more than 25 projects supported by Boosting Barrow's Creativity scheme.
Run by Barra Culture, Boosting Barrow's Creativity provides opportunities for artists, creatives, community groups and anyone with a creative idea to apply for support to make their ideas a reality or further develop existing ideas, thoughts or projects.
Following the success of the first round of support in early 2021, another round was launched towards the end of the year and 28 artistic, creative and interesting ideas were selected to receive support from the Barra Culture team.
The diverse projects range from individuals wanting to share their artistic skills with other people through workshops and tuition to those who want to transform the town with murals, installations and exhibitions.
"It really is incredible to see the amazing range of ideas," said Claire Williams, Boosting Barrow's Creativity project manager.
"I was blown away when I started to read through the really brilliant and innovative things that people wanted to do with support from Barra Culture. The sheer level of talent in Barrow shone through, as well as the real range of skills that people have within the community."
Among the successful applicants was local actor, spoken word artist and children's entertainer, Sally Ann Kemp who wants to bring her spoken word pieces to life through community engagement, film and projection.
"I started with an idea for a spoken word film and wrote a rough script, however I needed to collaborate with someone to help develop the idea and produce the film," said Sally Ann.
"With the financial support of Barra Culture I was able to hire a videographer. I'm delighted that the project is now moving along and I'm excited about the final production."
Another project receiving support is What The Flock where Art Works (Art4All) will work with groups to create Barrow's very own flock of pom pom sheep.
Sharon Tait from the project said: "Without Barra Culture's support our project wouldn't be able to welcome so many charities, groups, schools and colleges to join in. Our Flock would be only a lonely sheep, cold in the Cumbrian weather without a fleece made of pom poms."
All the selected projects will be ongoing throughout the early part of 2022. Ideas for future projects can be submitted on a rolling basis with decisions being made each year at the end of March and the end of September. Funding of up to £500 is available. For details, visit: barraculture.org.uk
For more information or to have a chat about a potential project, contact claire@barraculture.org.uk