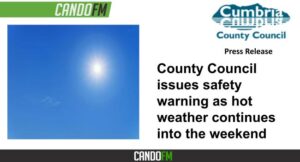 Cumbria County Council is warning residents and visitors to take care as the hot weather continues into this weekend.
The current hot spell, likely peaking tomorrow, may lead to widespread impacts on people and infrastructure.
Colin Cox, Director of Public Health, said: "Most of us welcome hot weather, and we want everyone to enjoy it, but when it's too hot for too long, there are health risks.
"The main risks to health during hot weather are not drinking enough water, overheating (which can make symptoms worse for people with heart or breathing problems) and heat exhaustion and heat stroke.
"Make sure you stay hydrated, don't stay in the sun for too long and look out for people who may be vulnerable during the hot weather such as older relatives or neighbours.
"In England, there are on average 2000 heat related deaths every year. So, please follow the advice and make sure it does not harm you or anyone you know."
If you or someone else feels unwell with a high temperature during hot weather, it may be heat exhaustion or heatstroke. Find out about the signs of heat exhaustion and heatstroke, and when to get help.
Cumbria Fire and Rescue Service has also been reminding people about the dangers of spending time near water as people look to cool down during periods of hot weather.
Craig Drinkald, Cumbria Fire and Rescue Service's Area Manager for Protection and Prevention said:
"Our county has lots of beauty spots near the water and they are especially nice to enjoy when the sun is shining. We don't want to spoil people's fun by telling them not to jump into rivers and lakes, but we do feel it is important to educate the whole community about the risk open water poses if you are not a trained professional with the correct equipment. Jumping into the water to cool off can lead to cold water shock, which can result in drowning, even if you are a strong swimmer.
"Please stay safe in and around water as it's colder than it looks."
The RNLI also provide some useful safety tips for spending time in and around open water.
The Wildfire risk level for Cumbria from Saturday 13 – Monday 15 August is currently very high as ground conditions are so dry.
Craig added: "Every year, fire destroys thousands of acres of countryside and wildlife habitats. Some fires are started deliberately, but most are due to carelessness. A small fire in the open can rapidly spread and quickly become a large incident. Please, help us keep our countryside safe by disposing of cigarette ends responsibly,not lighting fires or having BBQs in rural areas or local parks and taking your rubbish home with you, especially glass bottles. Sunlight shining through glass can start large fires. Take them home or put them in a waste or recycling bin.
"If you see a fire, report it immediately to 999."
For advice about how to stay safe in hot weather, visit the NHS website.