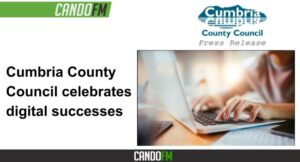 At a meeting of Cumbria County Council's Cabinet today (17 March), Members have been reviewing and celebrating progress on the delivery of the Digital Infrastructure Strategy.
The report presented at Cabinet showcased a number of highlights which demonstrate how better, and more reliable broadband connections are benefiting Cumbrian residents and businesses.
Some of the highlights include:
17 schools in Cumbria now have access to full fibre broadband connections which is helping to deliver learning outcomes.
Launch of the Digital Borderlands Voucher Top Up scheme which has supported thirty-six voucher top-up community schemes in Cumbria delivering gigabit capable connectivity to 1,003 premises.
Cumbria has been named as the pilot area for the UK Gigabit Programme (Project Gigabit). Up to £109m has been allocated to support procurement of a supplier to deliver gigabit capable services to properties in Cumbria which are not expected to be covered through commercial deployments.
The Council have been working to support the Shared Rural Network which targets 80% 4G geographic coverage from all four Mobile Network Operators by 2025 in Cumbria and 95% from at least one.
The Council, on behalf of the Borderlands, is a member of the 5G New Thinking consortium, led by Cisco Systems and the University of Strathclyde, which received £5m of funding from DCMS in 2020 to develop a community 5G toolkit.
Cllr David Southward, Cumbria County Council's Cabinet Member for Economic Development and Digital Champion said:
"Improved digital infrastructure remains a top priority given the significant economic and social benefits for Cumbria and I am delighted with the progress we have made over the last year. The importance of resilient connectivity has been further highlighted by the recent storms and the coronavirus pandemic. As we continue to recover, access to fast, reliable internet connectivity is no longer a luxury; it is a basic necessity for residents, local businesses and the delivery of public services." 
Find out more on the Connecting Cumbria webpages: connectingcumbria.org.uk