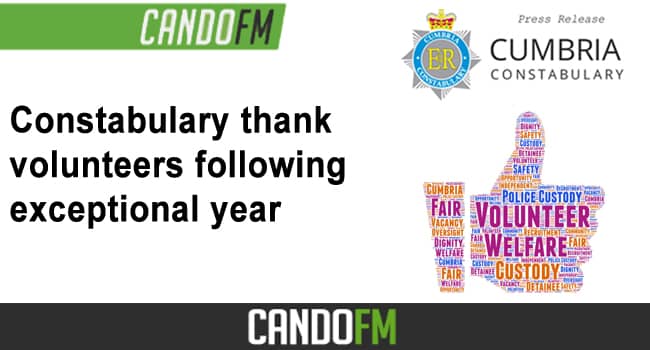 Cumbria Police is celebrating the great contribution made by the forces volunteers which include Special Constables, Police Support Volunteers, Mini Police and Volunteer Police Cadets who are all managed by the Citizens in Policing team during national volunteers' week.
The week, which runs from 1st to 7th June, plays a huge part in raising the profile of the millions of volunteers who regularly contribute to society.
During the global pandemic we have all faced unprecedented challenges, and our amazing volunteers have really stepped up to support the constabulary to continue to keep the people of Cumbria safe but also provide support to our officers and staff.
Before the pandemic the constabulary would hold the Citizens in Policing awards during this week to celebrate the achievements of all our volunteers, unfortunately this has been put on hold until October.
Our special constables have contributed to over 17,731 hours, with over 6,013 hours in support of the force's response to the coronavirus pandemic. This time also includes working with our neighbourhood policing and response teams.
The force has seen Special Constables who were furloughed commit more time to assisting the Constabulary. Companies have also allowed our Special Constables who are part of the Employer Supported Policing scheme to give more time to support policing during the pandemic and have been an invaluable resource.
Unfortunately, due to the pandemic many of our Police Support Volunteers were unable to work alongside our regular staff due to social distancing restrictions.
We would still like to thank you for their commitment.
The cadets also felt the impact of the pandemic with their activities and lessons being cancelled. In September began the start of virtual lessons and the cadets continued to support at local events albeit virtually. They participated in a #ClapForCarers video, sent a birthday card to Sir Captain Tom Moore and took part in virtual Remembrance Sunday.
Whilst we say thank you to our Police Cadets for sticking by us in these unprecedented times, we would not have been able to this without our amazing and dedicated volunteer police cadet leaders.
Chief Superintendent Sarah Jackson said "It is important to acknowledge all the incredible work our volunteers have contributed in support of us throughout the global pandemic.
"From delivering PPE to responding alongside regular officers on the front line to keep people safe.
"Unfortunately, some of our volunteers haven't been able to support us in ways they would have like to, but we look forward to welcoming them back when it's safe to do so.
"Our volunteers are an essential part of Cumbria Police and play a core part in keeping Cumbria safe, again I would like to say a thank you your hard work and dedication"
Cumbria's Police and Crime Commissioner, Peter McCall, said: "Special Constables play an incredibly important part within Cumbria Constabulary and have been essential during the COVID-19 pandemic, they make a very real and critical contribution to visible policing.
"They are trusted, familiar faces within our communities and they help build better relationships between the public and the Police which is invaluable to keeping Cumbria safe.
"It's especially encouraging to see our young volunteers from the mini Police and Police Cadets demonstrating real commitment and enthusiasm for the part they play both in school and in supporting community events, they are a fantastic example to us all and in the process are learning valuable lessons which develop their confidence and valuable real life skills.
"I would like to say thank you to every volunteer, in whatever role they play they add to the quality of Cumbria Constabulary they are key members of the team and we are incredibly grateful for their service."