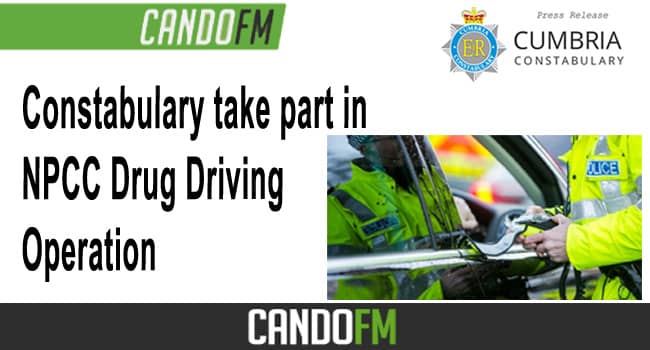 Officers from Cumbria's mobile support group are taking part in a National Police Chiefs Council (NPCC) Drug Driving Operation with a week of enforcement taking place from the 23rd August.
Starting from the 16th August Cumbria Police will be educating drivers via their social media accounts on the fatal consequences drug driving can have, the aim is to make our roads safer and take dangerous drivers of our roads.
In 2019, 577 drivers were arrested on suspicion of being over the drink drive limit and 561 drivers for being over the drug drive limit or unfit through drugs.
In 2020, the number of drivers arrested for drink driving decreased to 437 yet the number arrested for being over the drug drive limit or unfit through drugs rose to 883.
Sergeant Martin Bainbridge from the Mobile Support Group said "We all know the consequences that drug driving has, but people continue to put themselves and others at risk.
"Everyone who gets behind the wheel needs to take responsibility for their actions, this also includes E Scooters which come under the same laws.
"It's not just illegal drugs, some prescribed drugs can also impair peoples driving, its important you check the information sheet on your prescription and if unsure check with a pharmacist or doctor."
Officers can screen for cannabis and cocaine at the roadside, and screen for other drugs at a police station.
If convicted you could face a fine, driving ban and up to 6 months in prison, if causing death by dangerous driving under the influence of drugs you could face a prison sentence of up to 14 years.
Sergeant Bainbridge continued "Our officers in Cumbria are better equipped now than ever before to catch those who are unfit through drugs – be it illegal or legal prescription drugs."There is no excuse that you didn't realise you were still over the limit. If you fail the drug testing, you will face the consequences.
"Whilst our officers will always be on the look-out for those who get behind the wheel whilst impaired, there is also a great deal the people of Cumbria can do in support of this.
"Make sure your friends and family are aware of the dangers and the potential consequences. Don't get into the car if you suspect someone has been drinking or is unfit through taking drugs.
"Please call the police if you suspect someone of drink or drug driving. Your call could save their life or the life of another innocent road user
Cumbria's Police and Crime Commissioner, Peter McCall, said: "As Police and Crime Commissioner, part of my role is to be the voice of the public in terms of crime – dangerous driving and drugs are two priorities that are constantly raised with me.
"I'm pleased to see the Constabulary taking part in a national operation to educate and tackle drug driving as it is a serious matter and does cost lives.
"Getting behind the wheel of a vehicle when under the influence is a selfish act – it not only places the driver at risk, but innocent passengers, other drivers and pedestrians.
"The message is clear: drug drivers will be caught and face the consequences for their actions so do not drive under the influence.
"If you are taking drugs or drinking please make sure that you have a safe way home.
"If you suspect someone of drink or drug driving please report it to the Police.