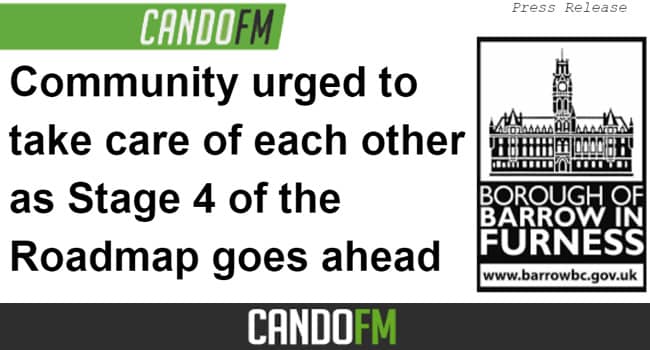 Residents across the borough are being urged to look out for one another as legal restrictions related to Covid are lifted today.
Mask wearing and social distancing are no longer mandatory as the nation moves into Stage 4 of the Roadmap out of Lockdown.
Limits on the number of people allowed to socialise indoors has come to an end while strict rules on the way hospitality venues can operate have also been relaxed.
Instead, the Government has called for people to take personal responsibility for their safety by exercising their own caution where appropriate.
Now, the leader of Barrow Borough Council, Councillor Ann Thomson, has urged the community to pull together and look after one another as the legal restrictions come to an end.
"This is Barrow, a community of people well known for the way we look out for one another when the going gets tough," Cllr Thomson said.
"It's how things have always been in this borough, and it's something that I, for one, have always been incredibly proud of.
"Freedom Day is something we've all been looking forward to since the start of the pandemic last year. We want to be able to spend time with family and friends, to go out and enjoy our fantastic hospitality businesses and not to have to miss any more birthdays or special occasions.
"But while legal restrictions are removed from today, guidance is still in place and is something we need to pay close attention to."
Government changes from today mean that mask wearing is now voluntary in all settings such as shops, pubs and restaurants and on public transport with people instead asked to exercise their own judgement.
There will be no cap on the number of people able to attend weddings or funerals with singing allowed indoors once again.
This means the previous restriction on numbers at Barrow's Thorncliffe Cemetery and Crematorium, in Thorncliffe Road, is now lifted with the maximum seated capacity of 96 now reinstated. Though no-one will be allowed to stand in the foyer, speakers will allow people to listen to the service from outside.
The changes also mean hospitality venues can operate without restrictions, including nightclubs, where customers can be served at the bar.
Working from home is no longer a requirement though businesses may choose to continue to do this at their own discretion, as well as requesting employees wear masks, manage queues or use partitions or screens.
And Barrow Town Hall continues to be open to the public on an appointment basis along with increased support available online or by phone.
Cllr Thomson added: "We all want to see normality resume after the sacrifices we have all made over the past 16 months.
"However, the virus is still with us and we need to remain cautious on behalf of ourselves, our loved ones and our fellow residents. Please consider those throughout our communities who may still be vulnerable to the virus in the choices you make every day.
"One of the best ways to help is by getting the vaccine and following your first dose with a second. It's quick and easy to do and is making a big difference."