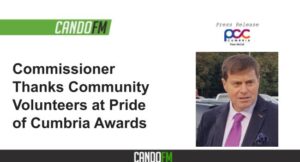 Police and Crime Commissioner, Peter McCall is supporting the Pride of Cumbria Awards, celebrating our local heroes across the county on Thursday, 23 June at Whitehaven Golf Club.
Talking about the event, Peter McCall comments: "I am pleased to be supporting the Pride of Cumbria awards, in particular the Community Group category. We have a huge number of local charities, clubs and groups in Cumbria, providing a variety of activities and social networks, many of which rely on time given generously and willingly by our community volunteers.
"Our strong volunteering networks makes all the difference to our communities, not only in helping people to stay connected, but also in developing a sense of pride and responsibility for the area they live in.
"I strongly believe that communities are at their best when we all work together and events such as the Pride of Cumbria awards, recognise, reward and celebrate our inspirational community heroes and volunteers.
"The three finalists in the Community Group category this year are Hindpool in the Community, 123rd Carlisle Scouts group and Happy Mums, who during the last year made sure that people remained socially connected and managed to keep in touch with one another.
Our communities are only as strong as their volunteering network. Small clubs and groups make huge differences to our local area and I would like to thank everyone who helps to keep our communities in Cumbria, some of the best places to live in the country."
For more information on this year's Pride of Cumbria Awards entries:
https://edition.pagesuite-professional.co.uk/html5/reader/production/default.aspx?pubname=&edid=7c3deaad-4774-43d2-bbf8-2c49228815c5