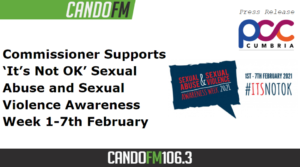 Cumbria's Police and Crime Commissioner Peter McCall is supporting National Sexual Abuse and Sexual Violence Awareness campaign this week, that aims to generate discussion among the general public, statutory bodies and third sector organisations about how sexual abuse and sexual violence is not ok.
Peter McCall comments: "I welcome the opportunity to raise awareness and support any campaign that helps to reinforce the message that sexual abuse and sexual violence is not OK. Starting conversations and promoting the 'It's Not OK' message as wide as possible, helps to empower victims and send out a clear message that in Cumbria, sexual abuse and sexual violence will not be tolerated.
"Recent national lockdowns and public restrictions may have left people not knowing what to expect. However, the message is clear – no one should feel that they are alone and have to suffer in silence. Help is out there, and the Bridgeway Sexual Assault Support Services can be accessed 24/7 for people that have been victims of rape, sexual assault and sexual abuse.
"These services involve the forensic-medical service at the Sexual Assault Referral Centre (SARC) and support from the Independent Sexual Violence Advisors (ISVA). Also included in The Bridgeway support are the therapeutic services which are provided by The Birchall Trust in Barrow and South Lakeland areas, and by Safety Net in the Allerdale, Copeland, Carlisle and Eden areas.
"I would also like to take this opportunity to encourage any victim of sexual assault or sexual violence to report it to police. We understand it is difficult, but the police are here to help. Your report will be taken seriously and appropriately investigated and we will work hard to bring offenders to justice. However, if you want help without police involvement please contact The Bridgeway on 0808 118 6432."
Detective Chief Superintendent Dean Holden, Head of Crime at Cumbria Constabulary, said: "For many victims of sexual offences, going through the process of reporting the crime, the investigation and the Criminal Justice System can be emotional and confusing. Members of the public can be reassured that Constabulary and a number of charities and agencies are here to support you.
"Awareness weeks like this are vital in encouraging people to talk and provide a platform for the Constabulary to further increase the awareness of what support is available to our communities.
"By sharing this information with the public now, they will be aware of the support is available should they find themselves victim to such a crime.
"I would like to take this opportunity to encourage any victim of sexual abuse or violence to report it to police. Your report will be taken seriously and will be thoroughly investigated by police officers.
"However, it is important to note that support services are available to victims regardless of whether they decided to report the crime to police or not.
"There are a wealth of support services in Cumbria who provide a range of services from obtaining forensic evidence, rehoming and financial support, to counselling or art therapy.
"If you are a victim of a sexual offence, please, do not suffer in silence. Help and support is always available."
Donna Cardell, Manager of The Bridgeway, said: "Sexual violence and abuse is not ok. We support raising the awareness through the #ITSNOTOK campaign as it has a catastrophic impact on people's lives and effects the families of people who have suffered also.
"Throughout this pandemic, we have continued to operate as usual and we encourage anyone who's suffered from this to contact us and we will help start the road to recovery for you."
The Bridgeway services are available 24 hours a day, 7 days a week on 0808 118 6432
Or email info@thebridgeway.org.uk