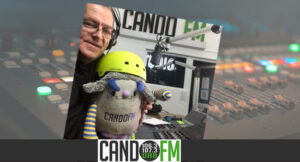 Starting on Wednesday 28th September Bill Clark will be presenting a new show on CandoFM.
Join Bill every Wednesday for "The Morning Show" from 28th September, 9am-midday.
It will be a fun packed show bringing you all the latest in news, travel, local entertainment and events as well as great music spanning 7 decades plus the best bit is that you get your say in the music he plays as he opens up "The Cando FM Big Jukebox" between 11 and 12 noon.
All you have to do is send a text or a WhatsApp to 07849 006550 on Wednesday mornings with your song request.
Bill will give you a mention on the radio, play a song for you and maybe even mention your workplace if you are tuned in there. Alternatively you can email requests to bill.clark@candofm.co.uk