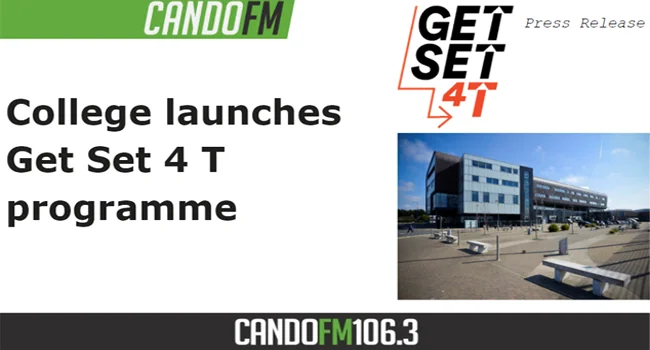 COLLEGE LAUNCHES GET SET 4 T PROGRAMME
Furness College is launching a new programme on the back of growing interest in its T Level courses.
The college, which will run T Levels in four subjects from September this year, is introducing a foundation programme called Get Set 4 T.
The tailored preparation programme will support students who want to study a T Level – but have not quite got the grades – to secure a place on the sought-after courses the following year.
T Levels are a new technical qualification equivalent to 3 A Levels for 16-19 year olds. They are designed to help young people develop the knowledge, attitude and practical skills to thrive in the workplace and include an industry placement.
Assistant Principal for Curriculum Sue Hannan said the college had received strong applications for its courses in Health, Education and Childcare, Digital and Science.
"We have looked at the applications and decided to offer a transition programme for students who are interested in T Levels but may not be quite ready.
"For some students, a T Level is the right choice to their dream career but, given the current circumstances of how many are learning in a virtual environment, they may need longer to prepare and invest another year in readying themselves for the full programme.
Those who successfully complete the Get Set 4 T programme can go on to secure a place for the following year or we can help them access other programmes or apprenticeships where they will have a CV with an impressive set of skills to bring to an employer."
Head of Maths & English and Functional Skills Hilary Johns, who is overseeing the Get Set 4 T programme, said: "From school to a T Level is a jump and this programme will provide our students with a fast-track chance to improve their English and maths GCSE grades and achieve additional work ready skills, knowledge and behaviours along with relevant qualifications for their chosen T level route.
Get Set 4 T will also include work ready qualifications in first aid, food hygiene and health and safety. To be eligible, students must achieve a grade 3 in English and maths, at least 2 other GCSEs at grade 4 or above including a science if they opt for the T level Health or Science route after this foundation year.
Furness College is looking for organisations from all sizes and sectors to get involved in the industry placements.
Students on industry placements bring with them enthusiasm, good subject knowledge and skills to support businesses and after 45 days they could hit the ground running as an employee.
For more information about partnering with the colleges on the T Level industry placement contact the college or email tlevels@furness.ac.uk