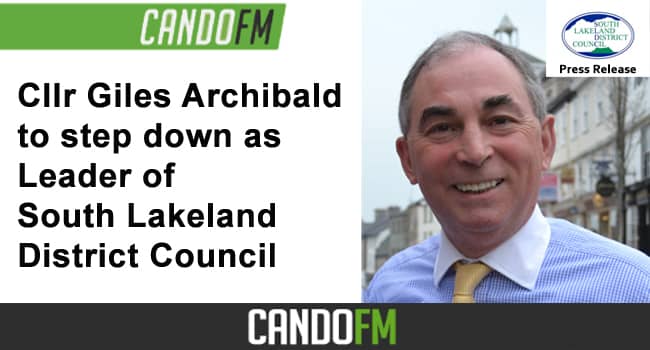 Cllr Giles Archibald is to step down as the Leader of South Lakeland District Council (SLDC) after five years at the helm.
Cllr Archibald, a Liberal Democrat, said he believed the time had come for a new Leader with a fresh perspective to take over.
"I came in as Leader five years ago and a large part of the vision I expressed at that time has been accomplished, so I think it is only fair and right for someone else to bring new ideas to the council," said Cllr Archibald, who lives at Greenside in Kendal, has been a South Lakeland district councillor for nine years and represents the Kendal Town ward.
He said the original aims of his leadership team five years ago comprised three stands. "Firstly, we wanted to move some projects along. Working in partnership with community groups, we have improved a lot of our playgrounds, for example in Kendal, Flookburgh, Rothay Park in Ambleside and at Rayrigg Meadow near Bowness.
"We completed the roll-out of kerbside cardboard and plastic recycling; agreed to a complete refurbishment of the Lido site at Grange-over-Sands and the restoration of the promenade in the town and to the refurbishment of the town hall in Kendal. We are more than half way to achieving our target of 1,000 new 'affordable to rent' houses."
He said the second part of the vision focused on the important issues of climate change, biodiversity loss and poverty alleviation. "All of these things have now become central to our council plan," said Cllr Archibald.
"The third strand was to ensure we continued a high level of service while moving forward with the new way of working – what we call Customer Connect – so that now residents can contact the district council 24 hours a day using the internet."
Cllr Archibald will step down as Leader at SLDC's annual meeting on May 19, when a new leader will be appointed.
"It has been a huge privilege to be Leader and I want to express my enormous thanks to fellow councillors and to the officers and council staff, who have worked extraordinarily well and hard during the Covid-19 crisis to tackle its effects and maintain services," said Cllr Archibald. "I have nothing but admiration for the way they have worked."
And he added: "I intend to carry on enthusiastically as a councillor serving the people of Kendal Town and South Lakeland."
Westmorland and Lonsdale MP Tim Farron said: "It's been a privilege and a joy to work with Giles as council leader these past five years.
"Giles has fought passionately to deliver more affordable homes for local families, to take action to tackle the climate emergency and protect our environment, and to help and support the most vulnerable residents in our communities.
"He is a phenomenal campaigner who loves listening to people and working hard to find solutions to their problems.
"Though Giles has decided to step down as leader, he will continue his brilliant work serving the people of Kendal as their local councillor, and I look forward to continuing to work with him to get things done for local people."