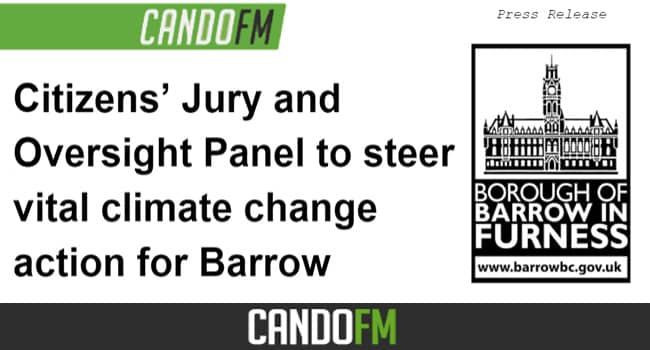 ACTION on climate change across Barrow is to be shaped by a citizens' jury made up of local residents and overseen by a panel of people from a diverse range of backgrounds.
Barrow Borough Council unveiled its ambition for the borough to become carbon neutral by 2037 in its Low Carbon Barrow Action Plan, published in 2019.
Now, the authority is to create a Citizen's Jury who will consider ways of lowering carbon usage across the borough before making a series of recommendations on the next steps that should be taken by the council.
Overseeing this process will be an Oversight Panel – with the group set to meet for the first time on August 31.
Councillor Ann Thomson, the leader of Barrow Borough Council and its lead member for Cleaner, Greener Neighbourhoods, will chair the Oversight Panel meetings.
She said: "Lowering the carbon usage of the whole borough will require the help of everyone here – it's not something the council can achieve on its own.
"We will all need to make changes to the way we do things, some small, some larger, so that we can do our bit to protect the planet for ourselves and future generations.
"I'm very proud that Barrow will be one of the first areas in the country to ensure residents are involved and leading the way in shaping our approach to tackling carbon emissions and climate change.
"I'm looking forward to chairing the meetings, hearing from the experts and also the ideas of our residents on how we achieve a carbon neutral footprint together by 2037."
The Oversight panel will help to select relevant 'commentators' to present their opinions to the Citizens' Jury.
They will also ensure the process is fair, review the recommendations made and raise the profile of the jury and its outcomes.
Letters to 20 people selected for the Oversight Panel have been sent ahead of its first meeting.
The Citizens' Jury is expected to be launched this autumn. It will hear expert opinions before reaching a series of recommendations for the council.
Work to help lower carbon usage across the borough is already underway through Low Carbon Barrow – a programme of projects designed to engage local communities on climate issues and sustainability over the next two years.
The projects will include Bug Out, a demonstration vehicle that will showcase options for change available to local people and the installation of additional electric vehicle charging points in the borough.
Councillor Thomson added: "The council is committed to achieving a greener and cleaner environment for all those living and working in the borough.
"This is a very exciting scheme to make sure our residents are at the centre of our efforts as a borough to work towards global climate repair.
"Working together as a community will help to bring us closer to achieving our goal which will benefit everyone."