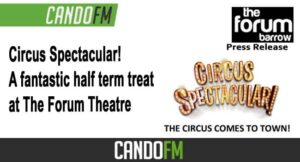 It's time to join the circus when Shone Productions brings International Circus Acts, Amazing Magic, and Lots of Laughs to The Forum Theatre, Barrow.
Leading the cast of Circus Spectacular is Bippo The Clown, Gareth 'Bippo' Ellis made his debut into performing when he was just 9 years old & he's never looked back, with the support of his parents, Gareth slowly started to carve his path in show business. After buying a small caravan Gareth and his parents used to join Zippos Circus during school holidays. It was during one of these holidays Gareth was taking part in publicity for the circus with Zippo himself. When asked by a reporter what his clown name was Martin 'Zippo' Burton replied – "He is a baby Zippo therefore his name is Bippo!" The rest was history! Bippo has since appeared on TV shows such as Blue Peter, Dick and Dom in The Bungalow, Big Brother, The Sooty Show and even his own BBC3
Documentary 'Send In The Clowns'.
Bippo is joined by his partner Miss Chelsea, who started her circus career at the tender age of 16 where she joined one of Britain's largest touring circuses at that time – Gerry Cottles WOW show in 2012 and she hasn't looked back since. Chelsea is a multi-talented performer and has many strings to her bow as not only does she do her hula hoop act – she has also specialised in many other aspects of circus including, aerial cube, aerial
silks, solo trapeze and roller skating!
With international Juggling Sensation Alfio Macaggi, born in Valencia, Spain, Alfio is a fourth-generation circus performer from one of Spain's most famous circus dynasties. At the age of six, Alfio, began juggling, encouraged by his uncle, who spotted his natural talent and ability, he continued to train and practice. Making his professional debut as a juggler at the age of Eleven. Alfio has since become one of the most sought-after performers in circuses across the world.
Joining the line-up is the incredible Duo Salsky, Thomas and Collette met while working on Chipperfields Circus in 1989, since then the duo have toured the world with their death-defying routines such as The Wheel of Death, Rolla Rolla and roller skating, keeping it in the family Thomas and Collette's sons Peter and Dommy 'The Salvador Brothers' just in their teens take to the stage with their incredible acrobatic routines Peter propels Dommy from his hands up onto his feet and from his feet to his shoulders. Further tricks included spinning Dommy horizontally on his feet, and from his back to hand to hand with Peter. The brothers have since appeared on CBBCs 'Crackerjack'
This show promises to thrill and entertain audiences of all ages!
Producer James Shone says: "Circus Spectacular will be a massive hit with family audiences. The show is packed with great performers from all walks of life, who have worked hard to craft their skills and become the very best they can be, mixed with their showmanship and enthusiasm, you will certainly be entertained!"
PERFORMANCE DETAILS
Circus Spectacular!
The Forum Theatre, Barrow
18 February 2022 at 3:00pm
Tickets From £15.00
www.theforumbarrow.co.uk