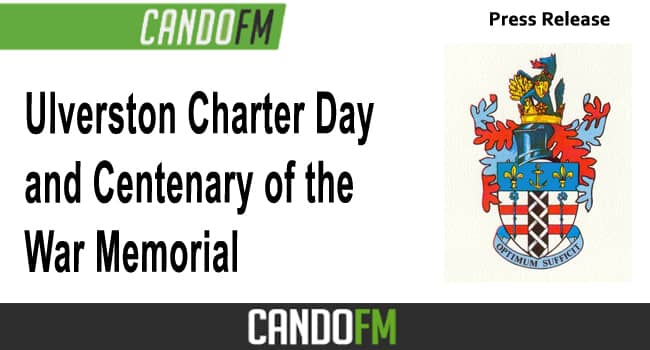 Charter Day and Centenary of the War Memorial
This weekend of 11 and 12 September will be busy in Ulverston with two
events happening over the weekend.
Charter Day
On Saturday 11 September the annual celebration of Ulverston Charter  will
be held with a family fun day in the town centre.  Events include Ulverston
model engineers with their model railway, free face painting and balloons.
Children activities and music featuring Blast Furness, Death Beats and Furness
Morris, plus Ramazan Saxophone quartet.
There will also be a fun family dog show at 1pm in Market Place which will
include prizes for the cutest puppy, best trick and a host of others.  Bring your dog along and take part just for fun.  You may win a rosette.
Centenary of the War Memorial
Ulverston's War Memorial was unveiled in 1921.  This year will commemorate
its centenary . The war memorial commemorates the fallen of both world
wars. A commemorative service will be held at the War Memorial at 2.15pm on
Sunday 12 September led by the Rev Alan Bring.  A procession which will include Ulverston Town Band and military standards will depart from the British Legion on Brogden Street at 2pm to the war memorial.  Everybody is very welcome to attend.
Ulverston Charter Day and Centenary of the War Memorial