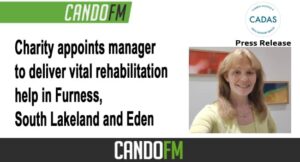 A woman with an outstanding track record in leading staff to support vulnerable people has been appointed to run Cumbria Alcohol and Drugs Advisory Service's operation in the south and east of the county.
Gail Jenson's career has included posts in charity, education and the public sector – all making a positive difference to people's lives and wellbeing. She was delighted to secure the role CADAS Manager – South Services and says she is ready, keen and able to tackle the many challenges ahead.
"My career path to date has always enabled me to follow my passion, which has involved supporting vulnerable people or managing teams and contracts, helping them to achieve their goals and ultimately transform lives," said Gail.
"With regard to face-to-face front-line delivery, I understand the challenges but also the amazing feeling when someone has a positive outcome and achieves their goals and aspirations.
"I've already met a few of the CADAS staff I will be managing and I've really been inspired by the service delivery they offer to clients and their passion to support people on their journey towards recovery.
"I'm really excited about the variety, the range of contracts, the geographical coverage and how we will support people to either start their journey or arrive at their destination 'success'."
Gail has previously worked for Preston College, Connexions (Inspira) in Kendal, the National Careers Service, The Conservation Volunteers – Work Programme, Haverigg Prison in Millom and, most recently, the Riverside Housing Association.
She will cover Furness, South Lakeland and Eden and can be contacted by email at gailj@cadas.co.uk