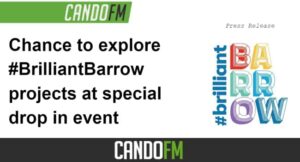 People are being urged to attend a special drop in event this week to find out more about #BrilliantBarrow's multi-million pound Town Deal projects.
Barrow was offered £25 million from the Government's £3.6 billion Town Deal fund last year for seven ambitious schemes that are set to secure a bright and transformative future for the town for generations to come.
Now, residents, visitors, businesses and stakeholders are invited to find out more about each of the innovative new projects at a friendly, informal drop in session this Friday, November 12 at The Forum between 12 noon and 5pm.
Councillor Ann Thomson, the leader of Barrow Borough Council, said: "This is a great chance to ask questions, speak to those closely connected to the projects and to look at some exciting plans for our #BrilliantBarrow projects.
"Anyone can attend and I hope as many people as possible will go along and find out more about what's planned for the town as part of this very ambitious programme.
"Securing funding on this scale is really a once-in-a-lifetime opportunity to make positive changes and I'm excited about the huge benefits each of these projects has the potential to bring to our communities for many years to come."
Barrow was one of the first towns in the country to secure an offer of £25 million from the fund.
The seven #BrilliantBarrow projects are:
Barrow Learning Quarter – the creation of a new university campus on Barrow Island to offer a range of higher education courses as well as extended further education provision at Furness College's Rating Lane site. This will raise aspirations and help 15,000 individual learners over the next 20 years.
Community Wellbeing Hubs – The development of hubs in the town centre, in Ormsgill and on Barrow Island that sit at the heart of communities where families of all ages throughout their whole life can access support in a way that works for them. There will also be a new outdoor community hub and learning centre at Earnse Bay.
Place Development – A project to develop locations in the town that can be used to support events, festivals and cultural activities that bring the community together and encourage people to visit Barrow, providing an economic boost and encouraging perceptions of the town as a great place to live, work and visit.
Housing Renewal – A programme of housing renewal focussed on a number of properties in the neighbourhoods of Barrow Island and Rawlinson Street to improve homes and make them more energy efficient to support a reduction of 367 tonnes of C02 per year while also increasing levels of community pride.
Business support – A project aimed at developing a supportive business environment to boost Barrow's enterprise overall and equip individuals, small and medium-sized businesses with the knowledge and skills they need to thrive and grow.
Marina Village – A remediation scheme to prepare the key brownfield site for the private sector so that it can deliver a mix of high quality homes that sit side by side with wildlife habitats.
Cycling and Walking Infrastructure – Dedicated cycling and walking routes in Barrow to make active travel an easy choice for all residents and visitors providing a long term health and wellbeing boost.
Full details of each of the schemes can be found on the #BrilliantBarrow website brilliantbarrow.org.uk