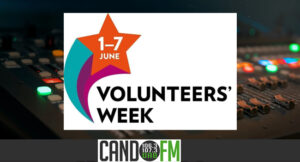 Volunteers' Week is a time to say thanks for the contribution millions of people make across the UK through volunteering.  Join us again this year to recognise the fantastic contribution volunteers make.
Here at CandoFM we are so proud to have over 50 volunteers aged 8-76, from all walks of life with one common goal, to provide the community with their own award winning Local Community Radio station CandoFM.
We encourage various local community organisations andn musicians to come and share their news and information across the airwaves while also entertaining with our regular specialist shows as well as the perfect mix of music for your work day.  There really is something for everyone.
Watch some of our volunteers when they were interviewed by another of our volunteers Mai Harrison when she complied a series "Meet the Presenters"