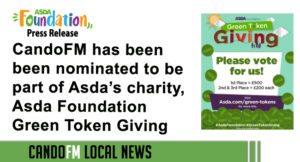 CANDOFM Community Radio
The donation would help us continue to hold holiday Radio Clubs during school holidays.
The children who attend receive training in all areas of radio and visual production. They then produce their own radio show based on content gathered from the local community.  Children who attend the club develop a wide variety of skills including self confidence, employable skills and compassion.
Vote for CandoFM today by just clicking on the link Green Tokens and we could receive £500 from #AsdaFoundation #Community
To see all the other ways CandoFM is in your community please visit CandoFM Community Projects
#GreenTokenGiving #Asda #Barrow