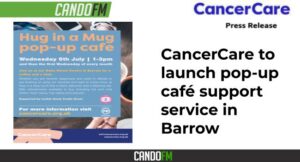 CancerCare is launching a new group support service in Barrow, next week.
The charity will be holding its first Hug in a Mug Pop-up Café at its centre on Duke Street on Wednesday 6 July from 1-3pm.
The sessions are free and open to anyone affected by cancer or bereavement who would like to get advice and provide support to others in similar circumstances.  There will also be CancerCare staff in attendance to provide information about the therapy services offered by the charity.
There will be refreshments available and, following the launch, meetings will be held on the first Wednesday of each month.
Hug in a Mug is being supported by Lookin' Good, Feelin' Great a local cancer awareness and fundraising group.
For more information call 03330 150 628 or email info@cancercare.org.uk For more information about CancerCare click here https://cancercare.org.uk/