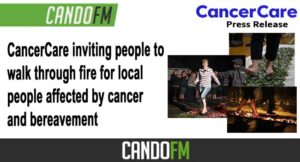 CancerCare is inviting people to strip off their socks and prepare their piggies for a unique fundraising challenge for only the bravest of "soles".
The charity, which provides free professional therapy for people affected by cancer and bereavement, will be holding its Feet of Endurance event, a barefoot walk over burning coals and shards of glass, at Barrow Island Community and Sports Hub on Saturday 9 April.
Participants will be fully instructed and guided by a team of experts who will give them the techniques they'll need to conquer their fears and undertake the challenge, emerging unscathed at the finish line.
CancerCare's Furness Fundraiser Heidi Bowron said: "Completing the Feet of Endurance, being cheered on by your family and friends, will be an unforgettable experience and not one you get the chance to do every day.  Every penny raised will go to help support local people going through some unbelievably tough times across the Furness area."
The event takes place at 4pm on Saturday 9 April at Barrow Island Community and Sports Hub, Cavendish Park, Barrow. Tickets are £25 with suggested sponsorship amount of £150).
For details visit cancercare.org.uk/news-and-events/cancercares-feet-of-endurance