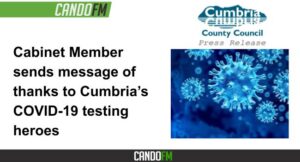 Cumbria County Council's Cabinet Member for Public Health and Community Services has issued a message of thanks to everyone involved in COVID-19 testing in the county since the pandemic began two years ago.
The message comes as free COVID-19 testing is set to end across the UK from Thursday 31 March – with many COVID-19 testing sites having already been decommissioned in response to the Government's "Living with COVID" plan.
After 1 April 2022, the vast majority of people needing to take a Lateral Flow or PCR test will need to buy one from a private retailer – such as a local pharmacist, with only a small number of groups able to continue to access free testing. The detail of exactly who will be able to continue to access free testing is yet to be finalised by Central Government, but is likely to include high risk immunosuppressed people and professional groups such as NHS and Social Care.
Cllr Deborah Earl, Cumbria's Cabinet Member for Public Health and Community Services, said: "I cannot thank the many people involved in Cumbria's COVID-19 testing operation enough for their dedication, hard work, and contribution to helping keep communities as safe as possible during the COVID-19 pandemic.
"A significant number of people have delivered a highly professional and valued COVID-19 testing service that has allowed local people to be tested, identify asymptomatic cases, minimise onward transmission and keep people safe.
"When your community needed you the most, you delivered and this is something the people of Cumbria will never forget.
"Your work has undoubtedly helped keep case transmission rates as low as possible, help protect the NHS and ultimately save precious lives during an incredibly difficult time for Cumbria and the rest of the United Kingdom. You are appreciated. Thank you."
For the latest guidance and information on testing for COVID-19 before 31 March 2022, please visit the Government website.
The government's "Living with COVID" plan has been published online and can be read in full.