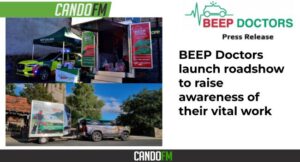 An emergency medical care service in Cumbria has launched a roadshow to raise awareness
about its vital and potentially life-saving work.
Representatives from BEEP Doctors (BASICS) Cumbria will be at a series of markets and
shows across the county in the coming weeks to give members of the public a deeper
insight into the charity's work and encouraging them to make donations.
"BEEP Doctors seem to be a little under the radar in terms of people knowing about them
and what they do," said the organisation's operations manager Jo Blackburn.
"It costs over £100,000 a year to keep our charity going and we rely solely on donations and
fund-raising events but, following the COVID-19 pandemic, it is becoming increasingly
harder to raise funds. We decided if people don't know about us, they cannot give to us, but
if people knew we existed and understood the crucial work our doctors do, then they would
realise what an amazing worthwhile service we are."
BEEP Doctors have specialist training in enhanced pre-hospital emergency care and provide
an extra level of medical intervention not normally available until a patient reaches hospital.
Cumbria's team of 11 volunteer doctors are on call 24 hours a day, seven days a week.
They can bring many of the facilities and skills of an A&E unit to the scene of an incident and
work closely with North West Ambulance Service paramedics and the Great North Air
Ambulance, often on the roadside at a road traffic accident or in a person's home during a
life-threatening emergency.
The roadshow comprises a branded Land Rover Defender, loaned by Lakeland Land Rover at
Torver, which pulls a trailer, which can be sited in town centres and at shows across
Cumbria.
The trailer and a gazebo are manned by a BEEP Doctor and volunteers, who are ready to tell
members of the public about the charity's work and hand out promotional material.
The roadshow began on June 27 and has already visited Waterhead, Ambleside,
Glenridding, Grange-over-Sands and Brockhole, near Windermere.
Dr Chris Moss, a BEEP Doctor and trustee of the charity, said: "In the first week we have
raised more than £2,000, generated a huge amount of interest and, above all, had some
wonderful conversations.
"It's great to be out and about in the community we serve. One of the most special
moments of the tour so far was speaking to a friend of someone Beep Doctors saved last
year – that really makes the whole thing so worthwhile."
Those visiting the roadshow have been encouraged to enter the charity's big summer raffle,
whose prizes include a one-night stay with dinner for two people at The Samling Hotel near
Windermere.
The raffle can be entered by texting beep to 70215 or tickets can be purchased from the
offices of Westmorland Homecare in Grange-over-Sands or Kendal for £1.
BEEP Doctors would like to sign up 5,000 people to give at least £1 per month and a banner
at the roadshow asks people to consider being one of those 5,000 and has the details of
how to sign up!
BEEP Doctors (BASICS) Cumbria chair Dr Theo Weston MBE said: "The roadshow is a first for
BEEP Doctors and is a huge leap forward in terms of our profile. It's a brilliant way first and
foremost to spread the word about the charity as well as being a great opportunity to alert
people to this year's raffle and other fundraising activities."
The roadshow will be at the following venues:
 Ulverston Market on July 14
 Penrith Show on July 16
 Rotary Club of West Lakeland Show on July 17
 Cockermouth Show on July 30
 Various markets in the west of Cumbria during August
 Whitehaven Traders Market on August 26
 Westmorland County Show on September 7 and 8
The roadshow will also be at other venues around the county – check BEEP Doctors' social
media sites for updates and further information. If anyone would like the roadshow at their
event, they should contact 01768 809535.