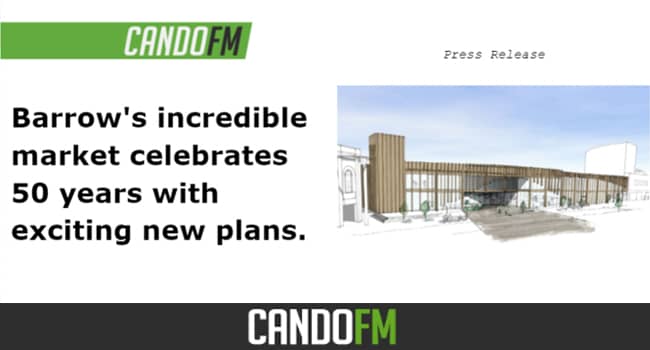 CELEBRATIONS are in the air for Barrow's incredible market as it celebrates its golden anniversary.
Exactly 50 years ago to the day the building, on Duke Street, was officially opened by Her Majesty The Queen on a visit to Barrow in 1971.
Since then it has provided a home to hundreds of new and independent businesses offering unique goods and services to discerning customers across the area.
Now, the market is at the centre of a major bid to the Government's £4.8 billion Levelling Up Fund which aims to support town centre and high street regeneration as well as supporting local transport projects, cultural and heritage assets.
If successful, the ambitious proposal – under development by Barrow Borough Council – would allow exciting plans to transform the market building to go ahead.
The scheme would see the ground floor of the building regenerated to include new stall spaces, a foodhall and soft play area for children, a shared entrance with The Forum and repairs to the roof.
Councillor Ann Thomson, leader of Barrow Borough Council and a regular market customer, said: "I'm incredibly proud that one of the very best markets in the region is right here in Barrow, where it has been a hive of activity and industry for generations.
"There's always something happening; business owners working, making and creating and customers calling in to visit unique and independent stalls that offer excellent value. I've always visited the market myself, there's nowhere quite like it.
"This building has served businesses and the borough extremely well for five decades. It feels right that the market is now at the centre of a bid to the Government's Levelling Up Fund."
Cllr Thomson added: "A market has existed on this site since 1864 but it has always changed with the times. It's one of the reasons it remains such a successful incubator of businesses and traders to this day.
"We hope the proposals under development will be successful so that we can make improvements that will entice more people to shop or even start a business of their own."
Barrow's original Victorian-style market was created in 1864 by James Garden for Furness Railway while the town was undergoing exponential growth.
Later, in 1903, Barrow Fish Market was built behind the Town Hall.
The current building was opened on June 10, 1971 when The Queen unveiled a plaque inside the Duke Street entrance.
Traders were this week presented with a certificate to mark the special date, signed by Cllr Thomson.
They include two businesses that were trading on site 50 years ago on the official opening day; Robson's Chinaware and Harts Watch Repairs, formally known as Harts the Jewellers.
Tom Robson is the owner of Robson's Chinaware, a business founded in 1917 by his father, Tommy.
The business was a regular stallholder in Barrow's original, outdoor market with stock arriving from the Potteries by rail in barrels packed with straw.
Tom, who has run the business with his father until his father retired from the current indoor market building throughout its 50 year history, said: "So much has changed in retail but the business has kept going all these years in the market thanks to loyal and regular customers and shoppers.
"I hope more people give the market a try to see the range of businesses here and look forward to seeing what the future holds for it over the coming years."