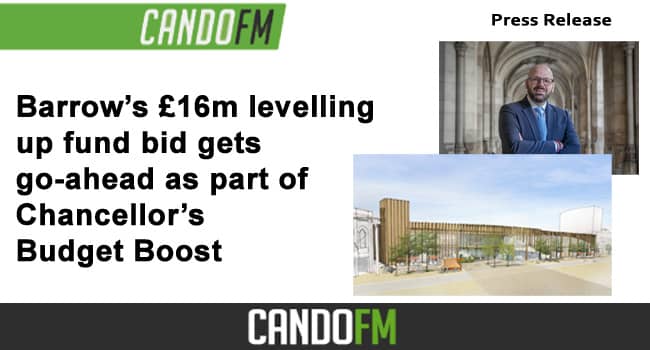 PEOPLE in Barrow & Furness are set to benefit from today's Budget with Barrow's transformational Levelling Up Fund bid having been given the go-ahead as part of the Government's commitment to level up every part of the UK.
The bid will transform Barrow's covered market into an open accessible space with a new food hall, and shared entrance with The Forum, creating a arts and shopping hub that will be the gateway to the town centre and mark the rejuvenation of Barrow's high street. This is one of 12 projects set to receive support from the £232 million Levelling Up Fund to help working families, support business and drive economic growth as the country recovers from the pandemic.
Welcoming the news, Simon Fell, the MP for Barrow & Furness, said:
"I'm very grateful to the Chancellor, Rishi Sunak, for his ongoing support for Barrow & Furness in this latest Budget. This funding will transform the covered market in Barrow – opened 50 years ago by The Queen and our hidden gem. It will gain a new food hall and soft play area and get a modern redesign – opening it up to the public & driving footfall to the town. The funding will also join the market to The Forum, creating an arts and shopping hub for the town, improving our cultural offering and drawing new and exciting acts to Barrow.
"This £16million of funding joins the £25million already awarded in our Town Deal. By 2024 Barrow will have a new university campus, an outdoor centre at Earnse Bay, have made major progress on Marina Village, delivered significant new cycling and walking infrastructure, and will have a modern arts and market space acting as the gateway to the centre of town."
As well as Barrow's successful Levelling Up Fund bid the whole of the northwest will also benefit from its share of the UK Shared Prosperity Fund, which is focused on helping people into jobs and supporting businesses, including giving hundreds of thousands of adults the opportunity to develop their numeracy skills though the adult numeracy programme, Multiply and a new £660 million Northern Powerhouse Investment Fund from additional funding for the British Business Bank.
Transport links are also set for more funding, with 32.6 billion for local upgrades over this Parliament, including the A595 Grizebeck Bypass in Cumbria and £24 billion for strategic roads investment, including the A66 Northern Trans-Pennine.